АБНАЎЛЕННЕ 19 верасня 2013 года: Перадача www.kamremake.com на новы хост быў завершаны! Калі ў вас узніклі праблемы з сайтам, калі ласка, паведаміце нам аб гэтым. Абшчына TeamSpeak сервер kamts.eu таксама даступная.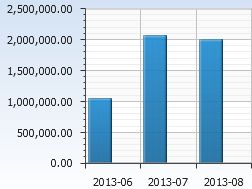 З пачатку праекта KaM Рэмейк вырас па-за нашых чаканняў. Колькасць гульцоў онлайн ў мультыплэеры рэгулярна дасягае максімуму ў больш чым 120. У абодвух ліпені і жніўні наш сайт www.kamremake.com перададзена каля 2 тэрабайт трафіку (гл. графік направа), і гэта толькі адзін з нашых люстэркаў для запампоўкі, большасць загрузак адбываюцца на іншых люстэркаў, якія прадстаўляюцца заўзятараў. З іншага боку, наша мультыплэер галоўны сервер, які падтрымлівае спіс гульнявых сервераў паслугі амаль 2 мільёны індывідуальных запытаў у месяц (у сярэднім 40 у хвіліну) ад прыкладна 20000 унікальных IP-адрасоў (гл. статыстыку ніжэй).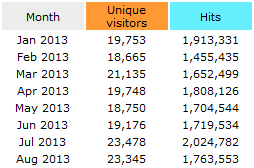 When we set up these servers we did not anticipate that a remake of an old game like Knights and Merchants would become so popular. The current servers we use are shared hosts designed for hosting small websites, and are often not adequate for the amount of traffic we receive. Over the past few years we have had a number of issues with our servers resulting in downtime due to overloading or issues with the hosting provider. Another problem is that our master server is hosted in Australia (Lewin's home country) which is on the opposite side of the world to Europe where the majority of our players live, meaning refreshing the server list in game is very slow for these players.
We now have a solution to these problems. In cooperation with knightsandmerchants.net (the international KaM forum and fan community) we have rented a virtual private server (VPS) in the Netherlands which now hosts the following services:
KaM Рэмейк Мультыплэер галоўны сервер

knightsandmerchants.net

www.kamremake.com

KaM супольнасць TeamSpeak сервер на kamts.eu
Іншыя паслугі, якія мы маглі б жадаць у будучыні, такія як шматкарыстальніцкія рахунку або глабальнай чаце ў гульні
We would like to thank Tom (T*AnTi-V!RuZz) the administrator of knightsandmerchants.net for all his hard work and support in organising this.
How does this affect you?
A virtual private server gives us more control, reliability and resources than our previous servers. Here are some changes you may notice:

Гэты вэб-сайт будзе загружацца хутчэй і загрузак будзе хутчэй
Спіс сервераў мультыплэер ў гульні будзе загружацца хутчэй

The website and multiplayer master server will be more reliable (less downtime/bugs)

Супольнасць TeamSpeak сервер kamts.eu даступны
Больш паслуг могуць быць даступныя ў будучыні, такіх як шматкарыстальніцкія рахунку, калі мы вырашылі рэалізаваць, што
How can you help?
The server cost us money to rent. We would appreciate if you can contribute to help keep the server running and support future development of the KaM Remake. Visit our donations page:
Let us know what you think in the comments 🙂
Левін і Кром.