Once in a while someone asks us about market prices, claiming that they are unfair and we should adjust specific trades. But each time when we inspect the report we find something is overlooked. So how come we are so sure about market prices now?
Market was added to KaM Remake only 1.5 years ago and immediately caused a stir. We set the wares prices basing on wares cost relative to raw wares (stone, trunks, corn, wine, arguably the cheapest resource in KaM). It looked like a good approach, but practice proved us wrong. There were many unfair trades back then, with Trunks for Coal being the most profitable and abused. Since then we have changed our approach, let me quote:
The new formula is based on the time it takes to produce 1 of that ware, plus the cost of the components as before (so flour_value = corn_value + time_to_make_flour). There are some additional tweaks:
1. Trees take a large area to produce so they get +0.15 to their value
2. The non-renewable resources are worth additional +25%.
3. Wine takes some extra wood to build so +0.1
4. You can only build a few iron/gold mines so +0.2

Market tradeoff is 2.2, meaning that for every trade you need x2.2 more wares sold to get the equivalent wares bought.
But let's not waste time on figures and move on to a recent "market abuse" example. We were reported that trading Axes to Horses is an unfair trade, that players can dump the economy and easily arm dozens of Knights by using the market. The winning setup is just some 12 woodcutters and 5-6 workshops.
It looks plausible, but let's prove it with an experiment! Let's take the trusted Map Editor and built such a village, alongside we make roughly equivalent village that is focused on producing Horses in a traditional way. To avoid external factors each Store is stocked with 1000 of food and houses are placed next to each others supply:
Are they going to be equivalent in Horses produced? Let's wait for the numbers. When mission starts it takes some clicking to rig the first village (set axes order to 1000 and set up market trade for horses). Both villages take some time to start producing Horses at a steady rate (trees need to be planted, corn needs to grow). Once that time passes everyone is at work. Let's wait for 2 hours and then compare figures. Debug x300 speedup is a great time-saver 😉
After 2 hours inspecting the villages there are some minor adjustments, but they are quite minor compared to overall picture, so we won't restart the experiment (second village could have had fewer serfs). There are few idle serfs, every house is stocked with input materials, there are little to no overhead.
First village is quite impressive: 12 woodcutters, 5 sawmills, 5 workshops, 1 market. 20 serfs, 22 citizens and roughly 260 tiles of roads. Food eaten: 140 bread + 140 sausages.
Second village is a lot more humble: 6 farms, 3 stables. 15 serfs and 9 citizens. ~90 roads. Food eaten: 80 bread + 80 sausages (could be fewer if we fired idle serfs).
But when we look at Horses produced we see that villages performance is next to identical: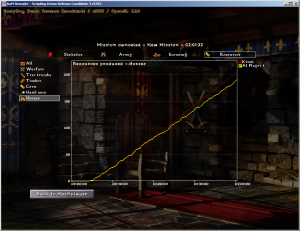 How could it be? The trick is inside the wares prices and market tradeoff factor. Each ware is priced according to its production rate (see above). True, first village has a lot more GDP, it stomps out axes at a huge rate, but when they are traded GDP is lost. Each time market does an exchange it takes 2.2 units, to give out only 1 unit.
Where does that leads us to? It seems going market is a good idea if you agree to spend twice as many of everything to get the same result from trading 😉 Other times specialized production beats the market and that's the point of it.
Outcome: Next time when you hear about unfair market prices, do the same experiment and see how it compares.