Дзякуй за ваша цярпенне, KaM Рэмейк сцэнарыяў Дэма, нарэшце, гатовы!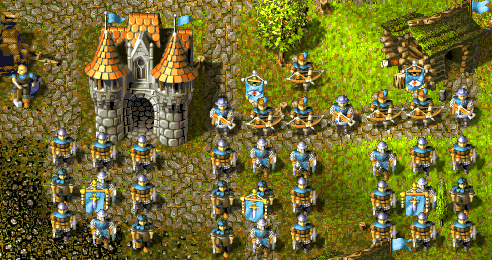 UPDATE (2013/06/30): Мы зафіксавалі уцечку памяці ў вылучаным серверы і выпусцілі абноўленыя выкананыя сервера (r5047). Вы можаце атрымаць новы ZIP на старонкі загрузак. Аператары сервера абновіце!
Вы можаце знайсці яго на старонкі загрузак. Калі ў вас ужо ёсць папярэдняя версія (r4179) вам трэба ўсяго толькі спампаваць ўсталёўшчык абнаўленняў (42MB), у адваротным выпадку вам спатрэбіцца поўны ўсталёўнік (258mb).

Самая вялікая асаблівасць у гэтай версіі з'яўляецца новы дынамічная сістэма сцэнарыяў. Гэта дазваляе аўтарам картаграфічных напісаць код сцэнара, які выконваецца падчас гульні, дазваляючы простыя рэчы, як падмацаванне, якія паступаюць на краі карты, а таксама зусім новыя гульнявыя рэжымы, такія як Fun са сцягамі (Florescence адзін) па Зігфрыда. Бэн арганізавала Конкурс для дынамічных скрыптовых місій, Таму чакаем ўбачыць значна больш, творчыя і новыя захапляльныя місіі ў бліжэйшыя месяцы!
Вось некаторыя з найбольш істотных змен:
Баланс
Усе прылады з шчытом (axefighters, swordfighters, разведчыкаў і рыцараў) атрымліваюць 1 абарону ад стралковых атрадаў (лучнікі і арбалетчыкаў), каб зрабіць іх больш жыццяздольнымі
Лучнікі (ня арбалетчыкаў) перазагрузіць трохі хутчэй, каб зрабіць іх больш жыццяздольнымі
Гандлёвы трохі танней на рынку
Асаблівасці
Дынамічныя сцэнары

Аўтаномны А.І. навучае салдат і ўстанаўлівае лініі абароны (як паказана вышэй на скрыншоце), яшчэ не завершана

Хост можаце ўсталяваць хуткасць гульні ад 1.0x да 3.0x ў лобі (падчас і пасля мірнага ўсталяваць асобна)
Новы адзіночнай кампаніі зроблены Vas з 10 місій
Хост можа ўсталяваць пароль для лобі, каб дазволіць прыватным гульні
Хост можа задаць апісанне для лобі, якое паказана для абранага сервера ў спісе сервераў (напрыклад, "новыя гульцы толькі")
FPS адлюстроўваецца побач з пінг дзякуючы чаму можна ідэнтыфікаваць гульцоў выклікае адставанне
Блок пастаўка канкрэтных відаў зброі ў казармы

Націснуўшы на миникарте месцы ў холе падымае яго

Размяшчэнне і сцяг выбару колеру для карт аднакарыстальніцкіх
Варыянт у вестыбюлі ў выпадковым месцазнаходжання ўнутры кожнай каманды
Магчымасць адпраўкі прыватны чат з канкрэтнага гульца (шэптам)
Туман вайны могуць быць злучаны іх для абранага гульца ў паўторах
Вы можаце пракручваць карту, перацягваючы пры націснутай колам пракруткі
Паляпшэння
Палепшаная армія перастаўляючы (відэа)

Рэдактар ​​Карта у асноўным функцыянальны зараз, некалькі нязначных асаблівасцяў лічацца прапаўшымі без вестак (адмена / паўтор), але ўсё астатняе, здаецца, там

Паведамленні для дамоў і салдат збіраюцца ў часопісе паведамленняў, а не асобных паведамленняў
Зменены парадак разблакіроўка зрабіць пачатак гульні хутчэй і цікавей, зараз па змаўчанні школы і міні гатэлі абодва адмыкнутая з самага пачатку, і кар'ер і лесарубаў абодва адмыкнутая пасля будаўніцтве школы
Значнае Pathfinding і прадукцыйнасці А.І. аптымізацыя
Націск клавішы выбірае карту якое пачынаецца з гэтай літары ў карце / захоўваць спісы

Кааператыў місіі больш не патрабуецца ўсталёўваць месца AI ўручную

Зайшоў будаўнікі апаражнення вежы эксплуатаваць, зараз будаўнікі не падыходзяць варожыя вежы.
Выпраўленне памылак (самае галоўнае)
Фермеры з'яўляюцца больш эфектыўнымі ў абласцях абмену
Зброя можа быць выведзены з казармаў, якім можна гандляваць на рынку
Карт / захаваныя спісы гульня загружацца значна хутчэй пасля першага разу
Салдаты загадалі атакаваць лучнікаў будзе прытрымлівацца лучнікаў, калі яны адысці
Выпраўлены эксплойт, дзе вы маглі б павялічыць вар'іраваліся хуткасць падраздзяленняў на узгарання, паўтараючы загад у патрэбны момант (напрыклад, дома атакі)
Многія іншыя памылкі / збоі фіксаваныя
Поўны спіс змен можна знайсці пасля ўстаноўкі ў файле Changelog.txt.
Мы хацелі б даць вялікі дзякуй усім нашым бэта-тэстарам, якія дапамаглі зрабіць гэты рэліз стабільнай, знаходзячы і паведамляючы пра памылкі падчас бэта-тэставанні.
Калі ласка, падтрымайце, каб падтрымаць далейшае развіццё праекта:
We hope you enjoy the new release, let us know what you think in the comments! 🙂
Левін і Кром.