UPDATE 22/08/2012: Shadaoe veikts video parādot pie jaunās funkcijas.
Mēs tagad pieņem ziedojumus Kam pārtaisīt projektu. Tie tiks izmantoti, lai segtu lietas, piemēram, serveriem, domēna vārda reģistrācija, programmatūras izstrādes licences, aparatūras un citiem izdevumiem. Ko mēs tērēt to ir atkarīgs no tā, cik daudz naudas tiek ziedoti. Ja jūs baudīt spēles KAM pārtaisīt, un vēlētos, lai palīdzētu atbalstīt tās attīstību, lūdzu, apsveriet ziedotājas. Mēs izmantojam Paypal par ziedojumiem, un jūs varat izvēlēties valūtu, kuru vēlaties ziedot no tiem, ko atbalsta Paypal. Apmeklējiet mūsu ziedojumu lapu, lai iegūtu vairāk informācijas:


Mēs aicinām jūs ziedot, lai palīdzētu atbalstīt šo projektu, bet, lūdzu, ņemiet vērā, ka ziedojums ir pilnīgi obligāta. Mod joprojām ir 100% bez maksas un nebūs nekādas īpašas pazīmes vai atlīdzības dota ziedotājiem, bet jums būs mūsu dziļu pateicību par jūsu ieguldījumu turpmāko attīstību bruņinieku un tirgotājiem pārtaisīt.
Runājot par nākotnes attīstību, mēs gatavojam jaunu atbrīvot! Būtu gatavs septembra beigās, lai gan tas viss ir atkarīgs no tā, cik daudz laika mums ir jāstrādā pie tā, un tas varētu būt vēl oktobrī, ja ir aizkavēšanās. Mēs jau esam sākuši beta testēšana, ja jūs vēlētos, lai palīdzētu pārbaudi, lūdzu, sazinieties ar mums ar savu e-pasta adresi.
Šeit ir teaser daži no jaunas funkcijas, mēs esam strādājuši par: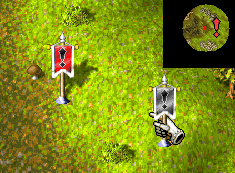 Bākas (attēlā pa labi), vietām marķieri kartē un minimap par 8 sekundēm, ka tikai jūs un jūsu sabiedrotie var redzēt. Tas ļauj jums, lai brīdinātu savu sabiedroto, lai kaut ko, vai signāls tiem, kur jums būs uzbrukums. Attēla labajā pusē rāda bāku, kursoru novietot to un minimap displeju.
Jūs varat piešķirt grupu vai māju Hotkey, nospiežot taustiņu kombināciju CTRL 1, kas ir līdzīga citām reālā laika stratēģija spēles. Tad, kad jūs nospiediet 1, ka grupa / māja tiks atlasīti. Nospiežot 1 divreiz centrā būs jūsu ekrāna grupas / māju. Visi skaitļi atslēgas var izmantot kā hotkeys.

Kad esat uzbrukuma brīdinājums mirgo minimap (attēlā pa labi) un brīdinājuma ziņojums tiks atskaņota kas ļauj ātri reaģēt.
Paplašināts karti saraksts vestibilā ar šķirošanu: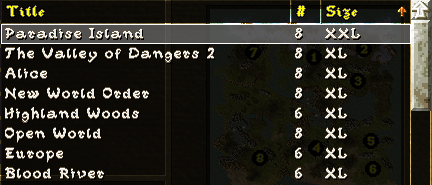 Grafiskie uzlabojumi: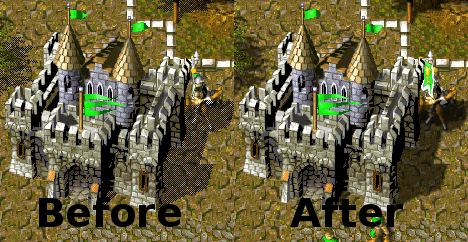 Gludas māja ēnas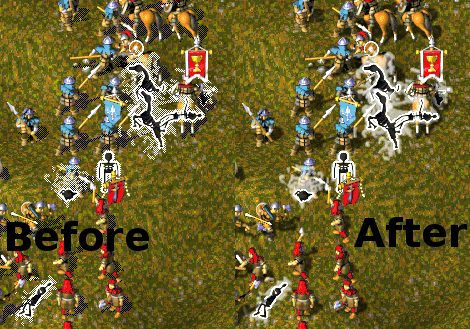 Gluda nāves animācijas, domāšanas animācijas un skursteņu dūmi
We look forward to bringing you this new release 🙂
Krom un Lewin.