OPPDATERING 22.08.2012: Shadaoe har laget en video som viser de nye funksjonene.
Vi tar nå imot donasjoner til Kam Remake-prosjektet. Pengene vil bli brukt til å dekke ting som servere, domenenavnsregistrering, lisenser til programvareutviklinga, hardware og andre utgifter. Hva vi bruker det på, avhenger dermed av hvor mye penger som er donert. Hvis du liker å spille KaM Remake og ønsker å bidra til å støtte utviklinga dens, anmodes du om å donere. Vi bruker Paypal til donasjoner, og du kan velge hvilken valuta du ønsker å donere i fra dem som støttes av Paypal. Besøk donasjonssida vår for mer informasjon:


Vi anmoder deg om å donere for å støtte prosjektet, men vit at det er helt valgfritt. Denne spillmodifikasjonen er fortsatt 100% gratis, og det vil ikke være noen spesielle funksjoner eller belønninger som gis til givere. Imidertid vil vi være svært takknemlige for bidraget ditt til den framtidige utviklinga av Knights and Merchants Remake.
Apropos framtidig utvikling: vi holder på å forberede en ny utgivelse! Den burde være klar i slutten av september, men det kommer an på hvor mye tid vi får til å jobbe med den. Hvis det blir forsinkelser, kan den komme så sent som i oktober. Vi har allerede begynt med betatesting, og har du lyst til å hjelpe til med dette, kan du kontakte oss med e-postadressa di.
Her er en teaser med noen av de nye funksjonene vi har jobbet med: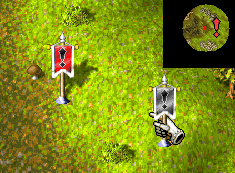 Varden (vist til høyre) plasserer en markør på kartet og minimap for åtte sekunder som bare du og dine allierte kan se. Dette gjør det mulig å varsle dine allierte til noe, eller signalisere til dem hvor du vil angripe. Bildet til høyre viser varden, markøren for å plassere det og minimap skjerm.
Du gir en hurtigtast til en tropp eller et hus ved å trykke CTRL 1, som i andre sanntidsstrategispill. Den troppen eller det huset velges nå hvis du trykker på 1. Trykker du på 1 to ganger, vil skjermen flyttes til troppen/huset. Alle nummertastene kan brukes som hurtigtaster.

Når du er under angrep, vil du få et varsel på spillkartet (som vist til høyre), og ei advarende melding vil bli spilt slik at du kan reagere raskt.
Utvidet og sortert kartliste i lobbyen: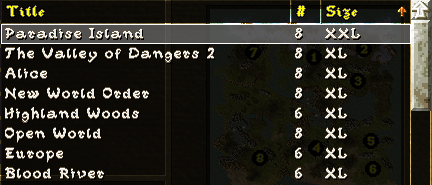 Grafiske forbedringer: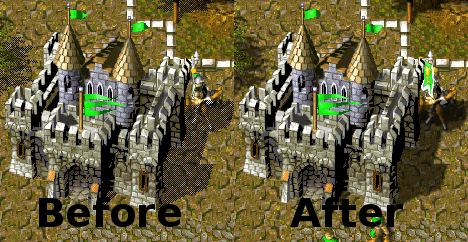 Jevne skygger fra bygninger (før-etter)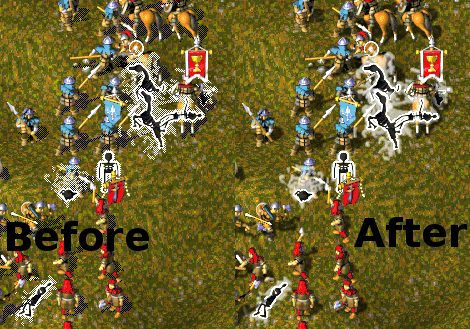 Jevne dødsanimasjoner, tankeanimasjoner og skorsteinsrøyk (for-etter)
We look forward to bringing you this new release 🙂
Krom og Lewin.