UPDATE 22/08/2012: Shadaoe napravili Video prikazuje off nove značajke.
Sada se prihvaćaju donacije za projekt Kam remake. Oni će se koristiti za pokrivanje stvari kao što su poslužitelji, registracija domena, razvoj softvera licence, hardver i ostale troškove. Ono što ga potrošiti na ovisi o tome koliko novca je donirao. Ako uživate igrajući Kam remake, a željeli bi pomoći financirati svoj razvoj, razmislite o donaciji. Mi se koriste PayPal za donacije, a možete odabrati valutu koju želite donirati u jednu od onih koje podržava paypal. Posjetite našu stranicu za donacije za više informacija:


Pozivamo vas da doniraju za pomoć projektu, ali budite svjesni da je donirala je potpuno neobavezno. Mod je još uvijek 100% besplatno i tu neće biti nikakvih posebnih obilježja i nagrade dao za donatore, ali ćete imati našu duboku zahvalnost za svoj doprinos budućem razvoju vitezova i trgovaca remake.
Govoreći o budućem razvoju, mi pripremamo za novo izdanje! To bi trebao biti spreman krajem rujna, iako je to sve ovisi o tome koliko vremena moramo raditi na tome, a to bi moglo biti tek u listopadu, ako postoje kašnjenja. Već smo počeli beta testiranje, ako želite pomoći, molimo testa kontaktirajte nas sa svojim e-mail adresa.
Evo teaser neke od novih značajki koje smo radili na: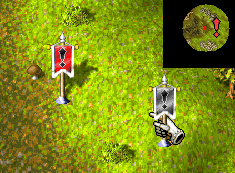 Beacon (što je prikazano na desnoj strani) stavlja oznaku na karti i minimap za 8 sekundi da samo vi i vaši saveznici mogu vidjeti. To vam omogućuje da upozore svoje saveznike na nešto, ili znak za njih gdje ćete napasti. Slika na desnoj strani pokazuje far, pokazivač ga i Mini karta zaslon stavljati.
Možete dodijeliti grupi ili kuću na hotkey pritiskom CTRL 1, slično drugim realnom vremenu strategije igre. Onda kada pritisnite 1 da grupa / Kuća će biti izabran. Pritisak 1 puta će središte zaslona na grupe / kuću. Svi brojevi ključevi mogu se koristiti kao kratica.

Kada ste pod napadom upozorenja će treptati na minimap (prikazano na desnoj strani) i poruka upozorenja će se igrati omogućujući vam da brzo reagirati.
Prošireni popis karte u predvorju s sortiranja: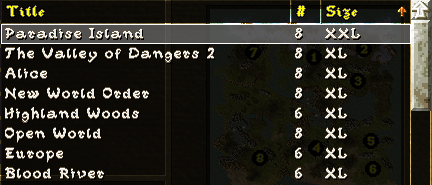 Grafički poboljšanja: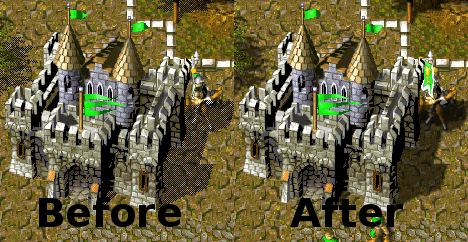 Glatke kuća sjene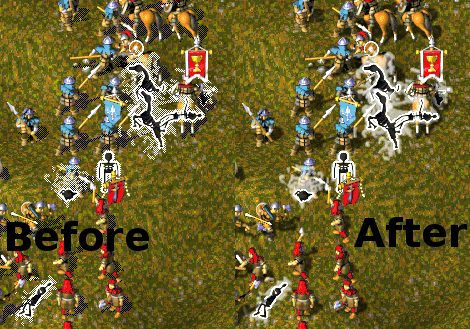 Glatke animacije smrti, misli animacije i dimnjaka dim
We look forward to bringing you this new release 🙂
Krom i Lewin.