AKTUALIZÁCIA 22/08/2012: Shadaoe vytvoril video zobrazujúce nové herné prvky.
Od tejto chvíle prijímame finančné príspevky pre projekt KaM Remake. Budú použité na pokrytie výdavkov pre servery, registráciu domény, licencie pre vývoj softwaru, hardwaru a ďalších nákladov. Koľko peňazí použijeme, záleží na veľkosti príspevkov. Ak vás baví hrať Kam Remake a chceli by ste pomôcť podporiť jeho rozvoj, prosíme zvážte pomoc formou finančného príspevku. Pre zasielanie príspevkov používame Paypal kde si môžete vybrať kurz v ktorom bude príspevok zaslaný. Pre ďalšie infomácie navštívte stránku pomocou tlačidla "Donate", kde sa o finančných príspevkoch dočítate viac.


Odporúčame vám, aby ste prispeli a pomohli podporiť tento projekt, ale prosím, uvedomte si, že finančný príspevok je úplne dobrovoľný. Mód je stále poskytovaný úplne zadarmo a finančným darcom nebudú poskytované žiadne špeciálne herné prvky alebo iné výhody. Budete mať však našu hlbokú vďaku za váš príspevok pre budúcí vývoj Knights and Merchants Remake.
Keď už hovoríme o budúcom vývoji, pripravujeme novú verziu! Mala by byť pripravená na konci septembra, to však ale závisí na tom, koľko budeme mať voľného času. Ak by sme sa však omeškali, nová verzia bude hotová až na konci augusta. Nedávno sme taktiež začali aj beta testovanie, pri ktorom ak by ste nám chceli pomôcť, Napíšte nám , prosím a nezabudnite napísať vašu e-mailovú adresu.
Tu je ukážka niektorých novovytvorených funkcií: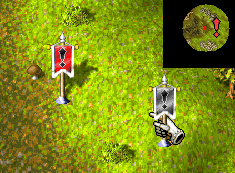 Maják (na obrázku vpravo) umiestni značku na mape a minimape po dobu 8 sekúnd, ktorú môžete vidieť len vy a vaši spojenci. Poslúži to buď na upozornenie vašich spojencov, alebo pre vyznačenie miesta vášho útoku. Na obrázok vpravo je maják, kurzor pri umiestňovaní majáku a ukážka ako to vyzerá na minimape.
Môžnosť priradenia skupiny alebo domu pre klávesovú skratku stlačením kombinácie klávesov CTRL 1, podobne ako v iných real-time stratégiách. Potom, keď stlačíte 1, označíte vami zadanú skupinu / dom. Dvojitým stlačením tlačidla 1 obrazovku zameriate na určitú skupinu / dom. Všetky čísla sú použiteľné ako skratky.

Keď na vás niekto zaútočí, budete na to upozornený blikaním na minimape (obrázok vpravo) a taktiež vás na to upozorní aj pôvodná varovná správa čo vám umožní rýchlu reakciu.
Vylepšené triedenie máp v lobby: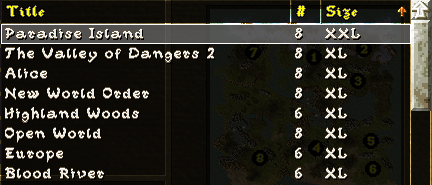 Grafické vylepšenia: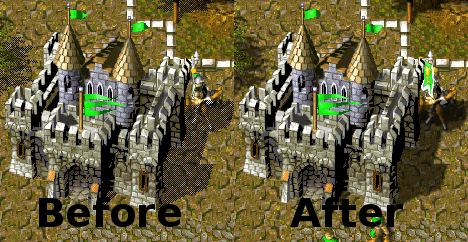 Zjemnené tiene budov (pred/po)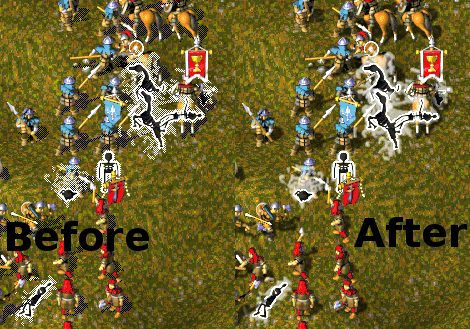 Vyhladené animácie smrti a animácie myšlienok a komínového dymu (pred/po)
We look forward to bringing you this new release 🙂
Krom a Lewin.