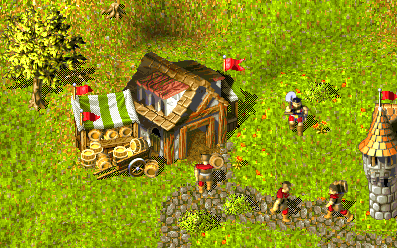 Under to måneder etter forrige utgivelse har vi en ny demo klar! Som alltid finner du den på nedlastingssida vår. Hvis du allerede har den forrige versjonen installert (r2411), trenger du bare 14MB-oppdateringa. (Kam_remake_update_r2678.exe)

Serveradministratorer: Vennligst oppdater serverne deres så snart som mulig.
Større endringer:
Det er korrigert over 50 bugs/krasj!
Over 20 mindre forbedringer
Automatisk gjentilkobling for flerspiller (tilfeldige avbrudd à la "serveren sluttet å svare" hører for det meste fortida til!)
Samarbeidsmodus for flerspiller
Over 20 nye flerspillerkart
Tvungen fredstid i flerspill (valgfritt)
Forbedret lobby med språkflagg, kategoriserte kart og penere layout
Mulighet for gjenvisning av lagrede spill (enkeltspiller og flerspiller)
Forbedret skjermbilde for flerspillerresultatene
Nye lydeffekter (takk til trb1914)
Varer vises på markedsplassen (takk Malin!)
Nye oversettelser: italiensk, spansk og brasiliansk portugisisk
Et nytt medlem, "Danjb", har blitt med i utviklingsteamet. Han har allerede redesignet lobbyen og lagt et miksealternativ for musikkspilleren; du vil se dem begge i denne utgivelsen. Delphi (språket) er nytt for ham, men han lærer fort. Det er flott å ha en ny person med i teamet.
"Malin" fra kamclub.ru created over 300(!) sprites showing wares in the marketplace! (see picture above) We would like to thank him for this enormous contribution to the project, it really brings the marketplace to life! 🙂
Takk til alle som hjalp til med denne utgivelsen gjennom å lage kart, spilltesting, oversettelse, og bugrapportering. Vær så snill å spre ordet om Remaken ved å legge ut informasjon om den på fora, sosiale medier og andre steder du kan tenke på! Vi vil tiltrekke oss så mange spillere som mulig.
Vi sees på nettet!