Etter mye grundig testing og feilretting, mange nattlige versjoner (testversjoner) og fem kandidat-versjoner til utgivelsen, er den etterlengtede oppdateringa til Kam Remake nå tilgjengelig! Du finner den på nedlastingssida vår.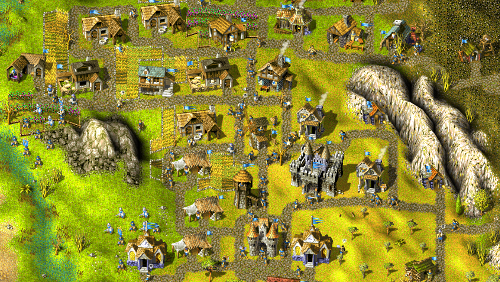 Fra og med denne versjonen har vi droppet "Demo"-tagen i tittelen. Nå er det KaM Remake rNoe. Prosjektet har vokst fra "demo" til et fullverdig spill som ikke lenger trenger "Demo" i tittelen.
Det er for mange endringer i den nye versjonen til å liste alle opp, men her er noen av de viktigste:
Funksjoner
Kraftig forbedring av AI når denne spiller alene mot en spiller: nå er den en verdig motstander for moderat dyktige spillere i enkeltspiller og flerspiller (skjermbildet ovenfor er en landsby bygget av en AI-spiller)
Unicode-støtte (for kinesisk, japansk og koreansk alfabet)
Filoverføringer i flerspillerlobbyen (kart og lagringer)
«Gå tilbake til lobbyen" i flerspiller (for å migrere ("rehoste") eller erstatte spillere som slutter)
Tilskuere i flerspiller
Nye språk: koreansk, serbisk og slovensk
To nye enkeltspiller-kampanjer An Empire Destroyed (laget av Dicsoupcan) og On Foreign Lands (laget av Grayter)
Mange nye enkeltspiller- og flerspillerkart
Forbedringer
Samlingsplass ("rally point") for kaserna (du gjør dette ved å høyreklikke)
Oversetting av nettverkssystemmeldinger
Mer nøyaktig enhetsutvelgelse
LAN-servere oppdages nå automatisk
Mer dynamiske skript-kommandoer
Forbedret ytelse
Og som vanlig - mange andre mindre forbedringer og feilrettinger. Det er også mange nye tungt skriptede oppdrag, inkludert RPG eventyr, beleiringer man samarbeider om i flerspiller, og selv en Snake-klone.
Vi vil gjerne benytte denne anledninga til å minne deg på å vurdere å donere for å støtte den fremtidige utviklinga av prosjektet:
Takk til alle som har bidratt til denne oppdateringa gjennom beta-testing, karttegning, skripting, programmering, feilrapportering, oversetting eller donasjoner. Og takk til hele Knights and Merchants-samfunnet - for at dere holder spillet i live og sterkt etter alle disse årene.
We hope you enjoy the update! 🙂
Lewin og Krom