Po rygorystycznych testach i naprawianiu błedów, licznych wersjach testowych i 5 wersjach Release Candidate, długo oczekiwana aktualizacja KaM Remake jest dostępna! Można ją znaleźć w dziale do pobrania.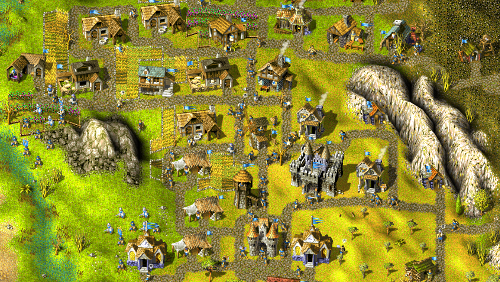 Poczynając od tej wersji rezygnujemy z dodatka "Demo" w tytule. Od teraz nazwa będzie wyglądać tak: KaM Remake rCoś. Projekt rozwinął się z wersji niepełnej, do samowystarczalnej gry, która nie potrzebuję już więcej słowa "Demo" w tytule.
Istnieje zbyt wiele zmian w nowej wersji, aby je wszystkie wymienić, ale oto najważniejsze z nich:
Cechy
Samodzielne AI znacząco poprawione: teraz jest to godny przeciwnik dla przeciętnego gracza zarówno w trybie dla jednego gracza, jak na mapach sieciowych (screen powyżej przedstawia wioskę zbudowaną przez AI)
Wsparcie dla Unicode (dla chińskich, japońskich i koreańskich alfabetów)
Przesyłanie plików w lobby (mapy i zapisy)
"Powrót do lobby" w trybie multiplayer (aby zmienić hosta lub zastąpić graczy, którzy wyszli)
Możliwość oglądania bieżącej rozgrywki w trybie multiplayer (tryb widza)
Nowe języki: koreański, serbski i słoweński
Dwie nowe kampanie singleplayer An Empire Destroyed (Zniszczone Imperium) (zrobiona przez Dicsoupcana) i (On Foreign Lands) Na Obcych Ziemiach (zrobiona przez Grayter'a)
Wiele nowych map multiplayer i singleplayer
Ulepszenia
Punkt zbiórki dla Warowni (prawym przyciskiem myszy)
Komunikaty sieciowe są przetłumaczone
Dokładniejszy wybór jednostek
Serwery LAN są automatycznie wykrywane
Więcej poleceń dla dynamicznych skryptów
Zwiększona wydajność
I jak zwykle - wiele innych mniejszych usprawnień i poprawek. Istnieje również wiele nowych, wielce oskryptowanych misji, takich jak przygoda RPG, sieciowe kooperacyjne oblężenia, a nawet klon Snake'a.
Chcielibyśmy skorzystać z okazji i przypomnieć o możliwości finansowej dotacji na wsparcie dalszego rozwoju projektu:
Dziękujemy wszystkim, którzy przyczynili się do tej aktualizacji poprzez beta testy, tworzenie map i skryptów, programowanie, raportowanie błędów, tłumaczenie lub darowizny. A dziękujem całej społeczności Knights and Merchants za utrzymywanie gry przy życiu przez te wszystkie lata.
We hope you enjoy the update! 🙂
Lewin i Krom