Po dôslednom testovaní a opravách chýb, početných skúškach, piatich vývojových verziách, je konečne vydaný dlho očakávaný update KaM Remake! Nájdete ho v sekcii Na stiahnutie.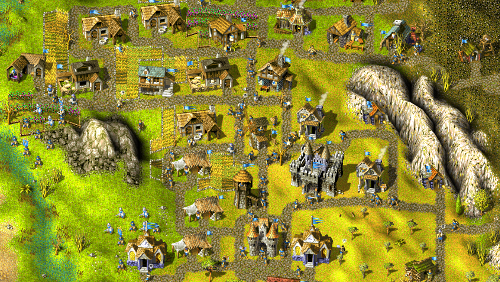 Počínajúc touto verziou z popisu zmizlo označenie "Demo". Teraz je to KaM Remake rNiečo. Projekt prekročil hranicu dema a stal sa plnohodnotnou hrou, ktorá už "Demo" v svojom názve nepotrebuje.
V tejto novej verzii sa udialo až toľko zmien, že tento zoznam ich obsahuje len niekoľko, tých najvýznamnejších:
Vlastnosti
Výrazné vylepšenie samo sa vyvýjajúcej AI: teraz je už súperom hodným stredne skúsených hráčov v singleplayeri aj multiplayeri (screenshot vyššie zobrazuje dedinu vybudovanú samostatnej AI)
Podpora Unicode (pre čínske, japonské a kórejské abecedy)
Prenosy súborov v lobby multiplayeru (máp a uložených hier)
"Návrat do lobby" v multiplayeri (pre rehosting alebo výmenu hráčov, ktorí odišli)
Diváci v multiplayeri
Nové jazyky: kórejský, srbský a slovinský
Dva nové singleplayer kampane An Empire Destroyed (vytvoril Dicsoupcan) and V cudzích krajoch (vytvoril Grayter)
Mnoho nových máp pre singleplayer a multiplayer
Vylepšenia
Zhromaždisko pre hrad (po kliknutí pravým tlačidlom myši)
Preložené sieťové systémové správy
Presnejší výber jednotiek
Už automatická detekcia LAN serverov
Viac príkazov pre dynamické skriptovanie
Zlepšenie výkonu
A ako obvykle - mnoho ďalších menších vylepšení a opráv. Taktiež pribudlo veľa nových, poriadne naskriptovaných misií, vrátane RPG adventúr, kooperatívne obliehania v multiplayeri, a dokonca aj klon hry Snake.
Chceli by sme taktiež využiť túto príležitosť na pripomenutie vám, aby ste, prosím, zvážili dar pre podporu budúceho vývoja tohto projektu:
Vďaka všetkým, ktorí prispeli na tento update prostredníctvom beta testovania, tvorby máp, skriptovania, programovania, hlásenia chýb, prekladov alebo finančným príspevkom. Vďaka taktiež celej Knights and Merchants komunite za udržiavanie tejto hry nažive a v plnej sile po celé tie roky.
We hope you enjoy the update! 🙂
Lewin a Krom