Na veel testen en bugs oplossen, tal van nightly versies en 5 test versies, is hier dan de langverwachte update voor KaM Remake nu beschikbaar! U kunt deze vinden op de downloadpagina.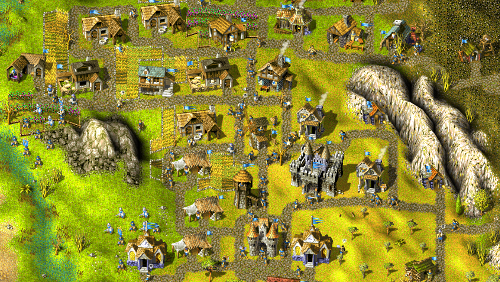 Vanaf deze versie hebben we het woord "Demo" uit de titel gehaald. Nu is het KaM Remake rSomething. Het project is uitgegroeid tot meer dan een demo. Het is uitgegroeid tot een volwaardige game die geen "Demo" meer nodig heeft in de titel.
Er is teveel veranderd in de nieuwe versie om deze allemaal op te noemen, maar hier zijn er enkele die er het meest belangrijk zijn:
Eigenschappen
De Standalone AI is aanzienlijk verbeterd: nu krijgt een matige speler een waardige tegenstander voor in de singleplayer en multiplayer. (De screenshot hierboven is een dorp gebouwd door de standalone AI)
Unicode-ondersteuning (Voor het Chinese, Japanse en Koreaanse alfabet)
Bestanden naar elkaar sturen in de multiplayer lobby (maps en saves)
"Terugkeer naar de lobby" in de multiplayer (voor rehosting of vervangen van de spelers die stoppen)
Toeschouwers in de multiplayer
Nieuwe talen: Koreaans, Servisch en Sloveens
Twee nieuwe singleplayer campagnes An Empire Destroyed (Door Dicsoupcan) en On Foreign Lands (Door Grayter)
En veel nieuwe singleplayer en multiplayer maps
Verbeteringen
Rally point voor de kazerne (rechts klikken)
Netwerksysteem berichten worden vertaald
Het selecteren van je eenheid is nauwkeuriger
LAN-servers worden nu automatisch gedetecteerd
Meer dynamische scripts commando's
Verbeterde prestaties
En zoals gebruikelijk - een groot aantal andere kleinere verbeteringen en bugfixes. Er zijn ook veel nieuwe zware missies waaronder RPG avonturen, multiplayer co-operatieve belegeringen, en zelfs een Snake kloon.
Wij willen graag van deze gelegenheid gebruik maken om u attent te maken op de mogelijkheid om te doneren, hiermee ondersteund u de toekomstige ontwikkelingen van het project:
Dank aan iedereen die heeft bijgedragen aan deze update voor beta-testen, het maken van kaarten, scripting, programmering, het rapporteren van bugs, het vertalen of te doneren. En dankzij de Knights and Merchants community voor het in leven houden van de game en de positieve reacties op het spel na al die jaren.
We hope you enjoy the update! 🙂
Lewin en Krom