UPDATE 9 Juni 2012: Turneringen har börjat! kassan Powah Tournament forum tråd att se stegen och resultat.
---
Jag har tillbringat en tid på vår webbplats medan Krom fortsätter att arbeta på koden. Jag är glad att kunna meddela två nya funktioner:
Sajten är nu översatt! Du kommer att se ett urval av flaggor på den högra panelen, så att du kan se platsen på ditt modersmål. Översättningarna kommer från Google Translate som standard, och kan sedan förbättras genom frivilliga.
Hjälp oss att förbättra översättningarna!
kontakta oss
och vi kommer att ge dig ett konto för att redigera / korrigera översättningen, vilket gör platsen bättre för andra. Vi behöver så många frivilliga som möjligt för att sprida arbetsbördan.
Om ditt språk inte visas, låt oss veta och vi kan titta på bland annat det.
Vår servrar sida now features a list of the 20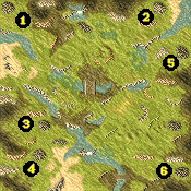 most-played maps. Our server keeps a record of each time a map is played so we can show interesting statistics like these. We hope this will give map makers an indication of maps styles players prefer.
Congratulations to koczis12 for creating the most popular fan-made map so far, Golden Cliffs. (shown to the right)
And there's more exciting news! Mulberry, Florek och To from our community are organising a 2 vs 2 multiplayer KaM Remake tournament! We hope you will all participate in it. If it is a success they are planning to organise more tournaments in the future, maybe even with prizes!
För information om turneringen vänligen läsa deras inlägg på forumet.
We hope you enjoy the new features and will take part in the tournament 🙂
Lewin.