Today we reached a special milestone, so we thought we'd take this opportunity to share with you some statistics about the project (it is also almost exactly 1 year since our last official release, so statistics on the past 12 months is easy to calculate).

First off the big one, 100 years (that is 876 000 hours!) total time spent in multiplayer games
6 years 3 months since development started
2 years 8 months since our website and online multiplayer launched
110 953 downloads of the game from our website in the past 12 months
17 403 games played on the most popular multiplayer map Cursed Ravine in the past 12 months
96 560 games played on all multiplayer maps in the past 12 months
169 925 visits to our website in past 12 months
97 921 unique visitors to our website in past 12 months
2 562 GB transferred from our server in the past 6 months
Top 10 countries with the most visits to our website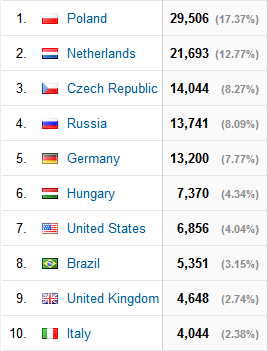 KaM Remake source code:
213 files
101 154 lines
3 459 132 bytes
2 178 automated crash reports received
2 214 emails received (not counting spam)
1 840 emails sent
2 234 likes on our Facebook page
37 798 posts on the KnightsAndMerchants.net forum
We would like to thank all of our players and fans who have made these statistics so impressive. And an extra thanks to those who have contributed to the project. We look forward to bringing you the next version of KaM Remake in several months time, and we hope to see continued growth in popularity.