Dnes sme dosiahli významný míľnik a tak nám teda napadlo, aby sme využili túto príležitosť a podelili sa s vami s niekoľkými štatistikami o projekte (je to taktiež takmer presne jeden rok od posledného vydania novej verzie, takže štatistiky sú ľahko vypočítateľné).

Najprv to najdôležitejšie - 100 rokov (čo je 876 000 hodín!) - to je celkový čas strávený hraním hier v multiplayeri
6 rokov a 3 mesiace odkedy začal vývoj
2 roky a 8 mesiacov odkedy bola spustená naša webstránka a multiplayer
110 953 stiahnutí hry z nášho webu za posledných 12 mesiacov
17 403 odohratých hier za posledných 12 mesiacoch na najpopulárnejej multiplayerovej mape Cursed Ravine
96 560 odohratých hier za posledných 12 mesiacoch na všetkých multiplayerových mapách dokopy
169 925 návštev našej webstránky za posledných 12 mesiacov
97 921 unikátnych návštevníkov na našich webových stránkach za posledných 12 mesiacov
2 562 GB dát prenesených z nášho servera za posledných 6 mesiacov
Top 10 krajín s najväčším počtom návštev našich webstránok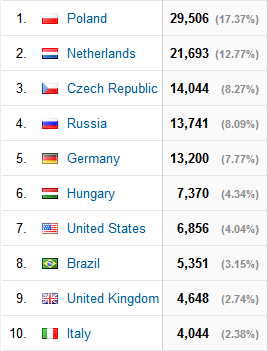 Zdrojový kód KaM Remake:
213 súborov
101 154 riadkov
3 459 132 bajtov
2 178 prijatých automatizovaných crash správ
2 214 prijatých e-mailov (nepočítajúc spam)
1 840 odoslaných e-mailov
2 234 likov na našej Facebookovej stránke
37 798 príspevkov na fóre KnightsAndMerchants.net
Radi by sme poďakovali všetkým našim hráčom a fanúšikom, ktorí urobili tieto štatistiky tak pôsobivými. A navyše veľká vďaka tým, ktorí prispeli na projekt. Tešíme sa, že vám za niekoľko mesiacov prinesieme ďalšiu verziu KaM Remake a dúfame, že uvidíme pokračujúci nárast popularity.