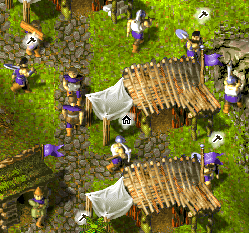 Popularita KaM Remake neustále rastie. V poslednom vydaní (r3392) sme sa dostali cez 18.000 stiahnutí, a počet hráčov on-line každý deň, stále rastie. To je skvelá správa, ktorá nám dodáva motiváciu pokračovať. Táto najnovšia verzia obsahuje mnoho zaujímavých nových funkcií a už sa tešíme na to, že vám prinesieme ďalšie aktualizácie. Verziu si môžete stiahnuť na stránke pre stiahnutie.

Radi by sme využili túto príležitosť a pripomenuli vám, aby ste zvážili darovanie na podporu budúceho rozvoja, ak ste tak už neurobili:
V tejto verzii sme vyvážili potrebu jedla, tak aby sa jeho výroba stala dôležitejším aspektom hry (najmä v multiplayeri), ako tomu bolo v pôvodnej hre. Vzhľadom k tejto zmene, budete pravdepodobne musieť vybudovať produkciu potravín skôr, ako v poslednej verzii. Taktiež sme urobili víno viac praktickým zdrojom jedla, pretože väčšina hráčov ho považovala za neefektívny v porovnaní s ostatnými zdrojmi.
Tu je prehľad niektorých z najvýznamnejších zmien:
Vyváženie:
Jednotky začínajú s rovnakým množstvom stavu, ako tomu bolo v pôvodnej hre (budú musieť jesť po prvýkrát približne o 12 minút skôr ako predtým)
Víno teraz obnovuje 30% stavu (predtým 20%)
Vinice teraz vyžadujú len 9 polí aby výroba prebiehala optimálne (predtým 11)
Opravy:
Mnoho pádov a bugov
Opravené niektoré chyby v Linuxom dedikovanom serveri (nemalo by padať)
Nesprávne zobrazovaná výška terénu na niektorých systémoch
Optimalizácia, aby hra bežala rýchlejšie a plynulejšie
Nové funkcie:
Grafy v herných výsledkoch (veľkosť armády, počítadlo budov, zdroje, atď)
Upozornenie na minimape, keď je hráč pod útokom
Majáky v multiplayeri (skratka B) na označenie pozície svojim spojencom
Jednotkám / budovám môžu byť priradené číselné klávesové skratky, rovnako ako v iných RTS hrách (CTRL 1 priradí vybranej jednotke / budove klávesu 1)
Lepší výber máp v multiplayerovom lobby s usporiadateľnými stĺpcami
Na obrazovke kampane je audio-briefing z pôvodnej hry
Podpora pre vlastné singleplayer kampane
Hladké tiene pre budovy
Hladké animácie smrti / rozmýšľania jednotiek
Podpora pre väčšie mapy do 256 x 256 dlaždíc (predtým 192 x 192)
Editor máp ukazuje celkové množstvo zdrojov
Ďalšie farby na výber v multiplayeri
Zlepšené a aktualizované mapy
Nové mapy, vrátane 17 nových co-op misií
Dve nové hudobné skladby láskavo prispel André Sklenář (www.juicelab.cz): Trh a Domácnosť
Nové preklady: Bieloruština, Čínština a Nórčina
Thanks to all of the beta testers who helped to make this release as bug free and stable as possible. We hope you all enjoy playing it 🙂
Lewin a Krom.