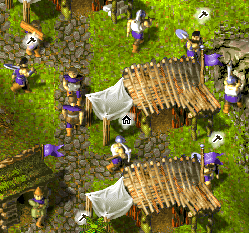 The popularity of the KaM Remake continues to grow. In the last release (r3392) we reached over 18,000 downloads, and the number of players online every day is steadily increasing. This is great news and gives us extra motivation to continue development. This latest release includes many exciting new features and we look forward to bringing you more updates after this one. You can get the release from the ladata sivu.

We would like to take this opportunity to remind you to consider donating to support future development if you haven't already done so:
In this release we have made a balance change to food with the aim of making food production a more significant aspect of the game (especially in multiplayer), as it was in original Knights and Merchants. Due to this change you will probably need to build food production earlier than you did in the last release. We have also made wine a more practical source of food because we found most players considered it ineffective compared to other food sources.
Here is a summary of some of the most significant changes:
Tasapaino:
Units begin with the same amount of condition as they did in the original game (they will need to eat for the first time approximately 12 minutes sooner than before)

Wine now restores 30% condition (previously 20%)

Vineyard now requires only 9 fields to run optimally (previously 11)
Korjaukset:
Monet kaatuu ja vikoja korjattu

Fixed some bugs in the Linux dedicated server (shouldn't crash now)

Maaston korkeuden sulatettu virheellisesti joissakin järjestelmissä
Optimisations jotta peli toimii nopeammin ja sujuvammin
New features:
Graphs in game results (army size, house count, resources, etc.)

Kuulutukset minimap kun olet hyökkäyksen

Beacons in multiplayer (shortcut B) to highlight a position to your allies

Units/houses can be assigned to number hotkeys similar to other RTS games (CTRL+1 assigns the selected house/unit to the hotkey 1)

Parani karttavalitsimessa moninpelin aulassa lajitella sarakkeet
Kampanjan tarina näyttö toistaa audio tiedotustilaisuudet alkuperäisestä pelistä
Tuki custom yksinpelit kampanjat
Sileä varjot talojen
Sileä kuolema / ajatus animaatioita yksiköiden

Support for larger maps up to 256 x 256 tiles (previously 192 x 192)

Map editor kokonaismäärä näkyy resurssien talletusten
Lisää lipun värejä moninpelissä
Parannettava ja päivitettävä kartat

New maps including 17 new co-op missions

Two new music tracks kindly contributed by André Sklenář (

www.juicelab.cz

): Market and Household

New translations: Belarusian, Chinese and Norwegian
Thanks to all of the beta testers who helped to make this release as bug free and stable as possible. We hope you all enjoy playing it 🙂
Lewin ja Krom.