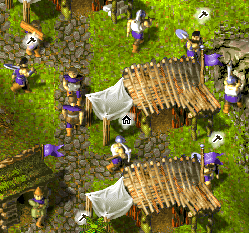 La popularité de KaM Remake ne cesse de croître. Avec la dernière version (r3392), nous avons atteint plus de 18.000 téléchargements, et le nombre de joueurs réguliers est en constante augmentation. Ce sont d'excellentes nouvelles et cela nous donne davantage de motivation pour continuer le développement. Cette dernière version inclut de nombreuses nouvelles fonctionnalités et nous sommes impatients de sortir d'autres mises à jour après celle-là. Vous pouvez d'ors et déjà télécharger la mise à jour sur la page de téléchargement.

Nous aimerions profiter de cette occasion pour vous faire reconsidérer la possibilité qui vous est offerte de soutenir le développement futur si vous n'avez pas déjà fait:
Dans cette version, nous avons ré-équilibré l'alimentation dans le but de rendre la production alimentaire un aspect plus important du jeu (surtout en multijoueur), tel qu'il était dans chevaliers et camelots à l'origine. En raison de ce changement, vous aurez probablement besoin de construire les bâtiments produisant de la nourriture plus tôt que vous ne le faisiez dans la dernière version. Nous avons également fait du vin une source de nourriture plus pratique car nous avons remarqué que la plupart des joueurs le jugeait inefficace par rapport aux autres sources de nourritures.
Voici un résumé de quelques-uns des changements les plus importants:
Ré-équilibrages::
Les unités sont créés avec la même état de santé initial que dans le jeu original (ils ont besoin de manger pour la première fois environ 12 minutes plus tôt que par le passé)
Le vin restaure désormais la santé de 30% (au lieu de 20% auparavant)
Le vignoble n'exige maintenant plus que 9 vignes afin de fonctionner de manière optimale (au lieu de 11 jusqu'à présent)
Corrections de bogues:
De nombreux plantages et bogues fixés
Correction de quelques bugs dans le serveur dédié Linux (il ne devrait pas planter maintenant)
Le rendu de l'altitude était incorrecte sur certains systèmes
Optimisations pour rendre l'exécution du jeu plus rapide et fluide
Nouvelles fonctionnalités:
Graphiques statistiques dans l'écran de fin de partie (taille de l'armée, nombre de maisons, les ressources exploitées, etc)
Alertes sur la minicarte lorsque vous êtes attaqués
Balises en mode multijoueur (raccourci: B) pour signaler une position à vos alliés
Les unités / maisons peuvent être affectées à une touche numérique comme dans d'autres jeux RTS (CTRL 1 lie la maison ou l'unité sélectionnée à la touche de raccourci 1)
Amélioration du sélecteur de carte utilisé lors de la préparation des parties multijoueurs. Il intègre désormais la possibilité de trier les cartes par colonne (taille,nom,...)
Les écrans de campagne jouent les fichiers audio de narration du jeu original
Support des campagnes solo personnalisées
Le rendu des ombres des maisons a été amélioré
Le rendu de l'animation de mort des unité a été adoucie
Prise en charge de plus grandes cartes dont la taille va jusqu'à 256 x 256 tuiles désormais (contre 192 x 192 auparavant)
L'éditeur de carte indique le montant total des ressources dans les dépôts
Davantage de choix pour la couleur des drapeaux en multijoueurs
Cartes améliorées et mises à jour
De nouvelles cartes dont 17 nouvelles missions en coopération
Deux nouveaux morceaux de musique généreusement fournis par André Sklenář (www.juicelab.cz): Marché et Ménages
Nouvelles traductions: Biélorusse, Chinois et norvégien
Thanks to all of the beta testers who helped to make this release as bug free and stable as possible. We hope you all enjoy playing it 🙂
Lewin et Krom.