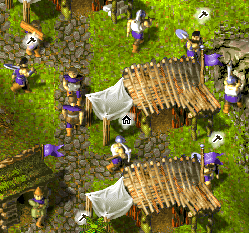 Oppslutningen til KAM Remake fortsetter å vokse. Den siste utgaven (r3392) hadde over 18.000 nedlastinger, og antall spillere på nett hver dag er stadig økende. Dette er gode nyheter, og gir oss ekstra motivasjon til å fortsette utviklinga. Denne siste utgaven inneholder mange nye spennende funksjoner, og vi ser fram til å bringe deg flere oppdateringer etter dette. Du kan få utgivelsen fra nedlastningssida.

Vi ønsker å benytte denne anledninga til å minne deg på at du anmodes å donere for å støtte fremtidig utvikling hvis du ikke allerede har gjort det:
I denne versjonen har vi gjort en balanseendring med maten med sikte på å gjøre matproduksjonen til en betydeligere del av spillet (spesielt i flerspiller), slik det var i originale "Knights and Merchants". På grunn av denne endringen vil du sannsynligvis trenge for å sette igang matproduksjonen tidligere enn du gjorde i den siste utgivelsen. Vi har også gjort vin til en mer praktisk kilde til mat fordi vi fant at de fleste spillerne vurderte det som ineffektivt i forhold til andre matkilder.
Her er ei oppsummering av noen av de største endringene:
Balanse:
Enheter begynner i samme tilstand som de gjorde i det opprinnelige spillet (de må spise for første gang ca 12 minutter tidligere enn før)
Vin gjenoppretter nå 30% på tilstandsmåleren (tidligere 20%)
Vingården krever nå bare ni felt for å fungere optimalt (tidligere 11)
Korreksjoner:
Mange krasj og feil er løst
Korrigering av noen bugs i Linux' dedikerte server (den skal i utgangspunktet ikke krasje nå)
Terrenghøyde gjengis feil på enkelte systemer
Optimaliseringer for å gjøre at spillet kjører raskere og jevnere
Nye funksjoner:
Grafer på spillresultatene (hærstørrelse, antall hus, ressurser, etc.)
Varsler på minikartet når du blir angrepet
Signal i multiplayer (snarvei B) for å trekke oppmerksomheten til dine allierte til en posisjon
Man kan tildele hurtigtaster til enheter og hus som i andre sanntidsstrategispill (CTRL 1 tildeler det valgte huset eller den valgte enheten til hurtigtast 1)
Forbedret kartvelger i flerspillerlobbyen med sorterbare kolonner
Bildet med kampanjehistorien spiller lydbriefingene fra originalspillet
Støtte for egendefinerte enkeltspillerkampanjer
Jevne husskygger
Jevn død/jevne tankeanimasjoner for enheter
Støtte for større kart opp til 256 x 256 fliser (tidligere 192 x 192)
Kartredigeringsprogram viser den totale ressursmengden
Flere flaggfarger å velge mellom i flerspiller
Forbedrede og oppdaterte kart
Nye kart, inkludert 17 nye samarbeidsoppdrag
To nye musikkspor, et snilt bidrag av André Sklenár (www.juicelab.cz): Marked og husholdning
Nye oversettelser: hviterussisk, kinesisk og norsk
Thanks to all of the beta testers who helped to make this release as bug free and stable as possible. We hope you all enjoy playing it 🙂
Lewin og Krom.