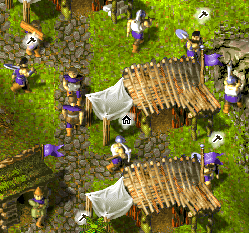 Η δημοτικότητα της Kam Remake συνεχίζει να αυξάνεται. Στην τελευταία έκδοση (r3392) φτάσαμε πάνω από 18.000 downloads, και ο αριθμός των παικτών σε απευθείας σύνδεση κάθε μέρα αυξάνεται σταθερά. Αυτό είναι μεγάλη είδηση ​​και μας δίνει επιπλέον κίνητρο για να συνεχίσει την ανάπτυξη. Αυτή η τελευταία έκδοση περιλαμβάνει πολλές νέες συναρπαστικές λειτουργίες και ανυπομονούμε να σας φέρνουν πιο ενημερώσεις μετά από αυτό. Μπορείτε να πάρετε την απελευθέρωση από το κατεβάστε τη σελίδα.

We would like to take this opportunity to remind you to consider donating to support future development if you haven't already done so:
In this release we have made a balance change to food with the aim of making food production a more significant aspect of the game (especially in multiplayer), as it was in original Knights and Merchants. Due to this change you will probably need to build food production earlier than you did in the last release. We have also made wine a more practical source of food because we found most players considered it ineffective compared to other food sources.
Here is a summary of some of the most significant changes:
ισορροπία:
Units begin with the same amount of condition as they did in the original game (they will need to eat for the first time approximately 12 minutes sooner than before)

Wine now restores 30% condition (previously 20%)

Vineyard now requires only 9 fields to run optimally (previously 11)
Διορθώνει:
Πολλά ατυχήματα και σφάλματα που καθορίζονται

Fixed some bugs in the Linux dedicated server (shouldn't crash now)

Έδαφος υψόμετρο απόδοση σωστά σε μερικά συστήματα
Βελτιστοποιήσεις για να κάνουν το παιχνίδι τρέχει γρηγορότερα και ομαλότερα
New features:
Graphs in game results (army size, house count, resources, etc.)

Ειδοποιήσεις για το minimap όταν είστε κάτω από την επίθεση

Beacons in multiplayer (shortcut B) to highlight a position to your allies

Units/houses can be assigned to number hotkeys similar to other RTS games (CTRL+1 assigns the selected house/unit to the hotkey 1)

Βελτιωμένη επιλογέα του χάρτη στο multiplayer λόμπι με ταξινόμησης των στηλών
Οθόνη ιστορία Εκστρατεία παίζει τις ενημερώσεις ήχου από το αρχικό παιχνίδι
Υποστήριξη για εκστρατείες έθιμο singleplayer
Ομαλή σκιές για τα σπίτια
Ομαλή κινήσεις του θανάτου / σκέψη για τις μονάδες

Support for larger maps up to 256 x 256 tiles (previously 192 x 192)

Editor χάρτης δείχνει το συνολικό ποσό των πόρων σε καταθέσεις
Περισσότερα σημαία χρώματα για να επιλέξουν από στο multiplayer
Βελτίωση και ενημέρωση χαρτών

New maps including 17 new co-op missions

Two new music tracks kindly contributed by André Sklenář (

www.juicelab.cz

): Market and Household

New translations: Belarusian, Chinese and Norwegian
Thanks to all of the beta testers who helped to make this release as bug free and stable as possible. We hope you all enjoy playing it 🙂
Lewin και Krom.