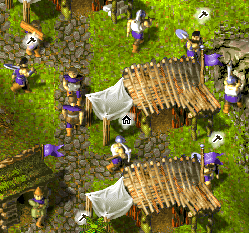 Папулярнасць ОК Remake працягвае расці. У апошнім выпуску (r3392) мы дасягнулі больш за 18 000 загрузак, а колькасць гульцоў онлайн кожны дзень няўхільна расце. Гэта добрая навіна, і дае нам дадатковую матывацыю для працягу развіцця. Гэтая апошняя версія ўключае ў сябе мноства новых узрушаючых магчымасцяў, і мы з нецярпеннем чакаем чаго вам больш абнаўленняў пасля гэтага. Вы можаце атрымаць вызваленне ад спампаваць старонку.

Мы хацелі б скарыстацца гэтай магчымасцю, каб нагадаць вам, каб разгледзець ахвяраванні для падтрымкі будучага развіцця, калі вы яшчэ не зрабілі гэтага:
У гэтым выпуску мы ўнеслі змены балансу на харчаванне з мэтай зрабіць вытворчасць прадуктаў харчавання больш важным аспектам гульні (асабліва ў мультыплэеры), як гэта было ў арыгінальных Рыцараў і камерсантаў. З-за гэта змена вы, верагодна, трэба пабудаваць вытворчасць прадуктаў харчавання раней, чым вы гэта рабілі ў апошнім выпуску. Мы таксама зрабілі віно больш практычным крыніцай ежы, таму што мы выявілі, што большасць гульцоў лічылі неэфектыўным у параўнанні з іншымі крыніцамі ежы.
Вось кароткае апісанне некаторых з найбольш істотных змен:
Баланс:
Адзінкі вымярэнняў пачынаюцца з тым жа колькасцю стану, як яны гэта рабілі ў арыгінальнай гульні (яны павінны з'есці ў першы раз каля 12 хвілін раней, чым раней)
Віно цяпер аднаўляе 30% стан (раней 20%)
Вінаграднік зараз патрабуе толькі 9 палёў для аптымальнай працы (раней 11)
Выпраўлення:
Многія аварыі і выпраўленыя памылкі
Выпраўленыя некаторыя памылкі ў вылучаным серверы Linux (не павінен ўрэзацца ў цяперашні час)
Ландшафт вышыня няправільна адлюстроўваюцца на некаторых сістэмах
Аптымізацыі, каб зрабіць гульню працаваць хутчэй і гладчэй
Новыя магчымасці:
Графікі ў выніках гульняў (памер арміі, кол-дома, рэсурсы і г.д.)
Абвесткі па міні-калі вы атакаваныя
Маякі ў мультыплэеры (ярлык B), каб вылучыць пазіцыю саюзнікаў
Адзінкі / дома могуць быць аднесены да ліку гарачых клавіш, як і іншыя гульні RTS (CTRL + 1 прысвойвае абраны дом / блок да гарачай клавішы 1)
Палепшаная селектар карту ў мультыплэеры лобі з магчымасцю сартавання слупкоў
Гісторыя кампаніі экран прайгравае аудиобрифинги з арыгінальнай гульні
Падтрымка карыстацкіх аднакарыстальніцкіх кампаній
Гладкія цені для дамоў
Гладкія сьмерць / думка анімацыі для адзінак
Падтрымка вялікіх карт да 256 х 256 плітак (раней 192 х 192)
Рэдактар ​​Карта паказвае агульную колькасць рэсурсаў у дэпазіты
Больш кветак сцягоў на выбар у мультыплэеры
Палепшаныя і абноўленыя карты
Новыя карты у тым ліку 17 новых кааператыўных місій
Два новых музычных трэкаў, ласкава прадастаўлены Андрэ Sklenář (www.juicelab.cz): Рынак і бытавыя
Новыя пераклады: беларуская, кітайскі і нарвежская
Thanks to all of the beta testers who helped to make this release as bug free and stable as possible. We hope you all enjoy playing it 🙂
Левін і Кром.