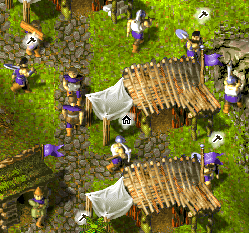 A popularidade do KaM Remake continua a crescer. No último release (r3392) chegamos a mais de 18.000 downloads e o número de jogadores on-line todos os dias é cada vez maior. Esta é uma grande notícia e nos dá motivação extra para continuar o desenvolvimento. Esta última versão inclui muitas novas funcionalidades e estamos ansiosos para trazer-lhe mais atualizações após este. Você pode obter a liberação do página de download.

Gostaríamos de aproveitar esta oportunidade para lembrá-lo de considerar a doação para apoiar o desenvolvimento futuro, se você não tiver feito isso:
Nesta versão, fizemos uma mudança de equilíbrio para alimentos com o objetivo de tornar a produção de alimentos um aspecto mais significativo do jogo (especialmente no modo multiplayer), como era no original cavaleiros e comerciantes. Devido a essa mudança, você provavelmente vai precisar para construir a produção de alimentos mais cedo do que você fez na última versão. Fizemos também uma fonte de vinho mais prático de alimentos, pois encontramos a maioria dos jogadores considerou ineficaz em relação a outras fontes de alimento.
Aqui está um resumo de algumas das mudanças mais significativas:
Equilíbrio:
Unidades de começar com a mesma quantidade de condição, como fizeram no jogo original (eles terão de comer pela primeira vez cerca de 12 minutos mais cedo do que antes)
Vinho agora restaura a condição de 30% (anteriormente 20%)
Vinha agora requer apenas 9 campos para executar de forma otimizada (anteriormente 11)
Correções:
Muitas falhas e bugs corrigidos
Corrigido alguns bugs no servidor dedicado Linux (não deve falhar agora)
Elevação do terreno processado incorretamente em alguns sistemas
Otimizações para tornar o jogo correr mais rápido e suave
Novos recursos:
Gráficos em resultados dos jogos (tamanho do exército, contagem casa, recursos, etc)
Alertas sobre o minimap quando você está sob ataque
Beacons no multiplayer (atalho B) para destacar a posição de seus aliados
Unidades / casas pode ser atribuído a número hotkeys similar a outros jogos RTS (CTRL 1 atribui a casa / unidade selecionada para a tecla de atalho 1)
Seletor de mapa aprimorado no multiplayer átrio com colunas classificáveis
Tela história Campanha reproduz os briefings de áudio do jogo original
Suporte para campanhas singleplayer personalizado
Sombras suaves para casas
Suaves animações death / pensamento para as unidades
Suporte para mapas maiores até 256 x 256 telhas (anteriormente 192 x 192)
Editor Mapa mostra a quantidade total de recursos em depósitos
Mais cores da bandeira para escolher no modo multiplayer
Mapas melhorado e atualizado
Novos mapas, incluindo 17 novas missões co-op
Duas novas faixas de música gentilmente contribuíram por André Sklenář (www.juicelab.cz): Mercado e do agregado familiar
Novas traduções: bielorrusso, chinês e norueguês
Thanks to all of the beta testers who helped to make this release as bug free and stable as possible. We hope you all enjoy playing it 🙂
Lewin e Krom.