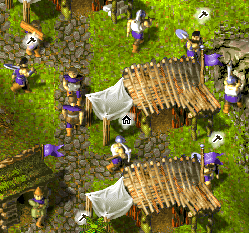 Kama Remake populiarumas ir toliau auga. Per pastarąjį spaudai (r3392) mes pasiekėme daugiau nei 18.000 parsisiųsti ir žaidėjų skaičius internete kiekvieną dieną nuolat didėja. Tai puiki naujiena ir suteikia mums papildomos motyvacijos tęsti plėtrą. Ši naujausia versija apima daug įdomių naujų funkcijų, ir mes tikimės, kad atneša jums daugiau atnaujinimų po šio vieno. Jūs galite gauti išsiskyrimą iš atsisiuntimo puslapį.

Mes norėtume pasinaudoti šia galimybe priminti jums apsvarstyti dovanojančios remti būsimą plėtrą, jei turite dar nepadarėte:
Šiame leidime mes padarėme balanso pokytis į maistą siekiant, kad maisto produktų gamybai svarbesnį aspektą žaidimo (ypač multiplayer) tikslas, kaip tai buvo originalus riterių ir pirklių. Dėl šio pokyčio tikriausiai reikia sukurti maisto gamybą anksčiau, nei tu per pastaruosius išleidimo. Mes taip pat vyno daugiau praktinių maisto šaltinis, nes mes radome dauguma žaidėjų laikoma, kad neveiksminga, palyginti su kitų maisto šaltinių.
Čia yra santrauka kai kurie iš labiausiai reikšmingų pokyčių:
balansas:
Vienetai prasideda ta pačia suma su sąlyga, nes jie darė originalaus žaidimo (jiems reikės valgyti pirmą kartą maždaug 12 minučių anksčiau negu prieš)
Vyno dabar atkuria 30% būklę (anksčiau 20%)
Vynuogynų dabar reikalauja tik 9 laukus paleisti optimaliai (anksčiau 11)
Pataisymai:
Daugelis avarijų ir suremontuota
Ištaisyta keletą Linux Dedicated Server klaidas (ne avarijos metu)
Vietovės reljefo rodomi neteisingai kai kuriose sistemose
Optimizavimas padaryti žaidimą paleisti greičiau ir sklandžiau
Naujos funkcijos:
Diagramas žaidimų rezultatus (armijos dydžio, namas count, išteklių ir tt)
Perspėjimai apie minimap kai esate pagal ataka
Švyturiai multiplayer (spartusis b) pabrėžti poziciją savo sąjungininkais
Vienetai / namai gali būti priskirtas skaičių klavišus panašus į kitų RTS žaidimų (ctrl 1 priskiria pasirinktą namą / įrenginį prie klavišas 1)
Patobulintas žemėlapis selektorių multiplayer fojė su sortable stulpelius
Kampanijos istorija ekranas atkuria garso instruktažus iš originalaus žaidimo
Parama pagal užsakymą Singleplayer kampanijos
Sklandžiai šešėliai namams
Sklandžiai mirtis / mintis animacija vienetų
Parama didesniais žemėlapiai iki 256 x 256 plytelės (anksčiau 192 x 192)
Žemėlapis redaktorius rodo bendrą sumą išteklių indėliai
Daugiau vėliavos spalvų rinktis iš multiplayer
Tobulinami ir atnaujinami žemėlapiai
Nauji žemėlapiai, įskaitant 17 naujų Co-op misijas
Dvi naujos muzikos takelius maloniai prisidėjo André Sklenář (

www.juicelab.cz

): Rinkos ir buitinės
Nauji vertimai: baltarusių, kinų ir Norvegijos
Thanks to all of the beta testers who helped to make this release as bug free and stable as possible. We hope you all enjoy playing it 🙂
Lewin ir Krom.