UPDATE 19. september 2013: Prenos www.kamremake.com na novega gostitelja je zaključena! Če imate kakršne koli težave z mesta vas prosimo, da nas obvestite. Skupnost TeamSpeak strežnik kamts.eu je na voljo tudi.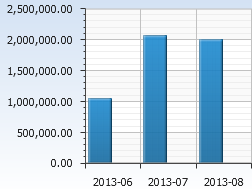 Ker je projekt začel je KAM Remake zrasla onkraj naših pričakovanj. Število igralcev na spletu v multiplayer redno vrhov na več kot 120. Tako v juliju in avgustu naša spletna stran www.kamremake.com prenesla približno 2 TB prometa (glej graf na desni), in to je le eden od naših prenosa ogledal, večina prenosov pride na druga ogledala, ki jih navijači. Po drugi strani pa je naša multiplayer glavni strežnik, ki vzdržuje seznam igralnih strežnikov storitev skoraj 2 milijona posameznih zahtevkov na mesec (povprečno 40 na minuto), s približno 20.000 unikatnih IP naslovov (glej statistiko spodaj).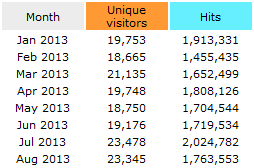 Ko smo postavili teh strežnikov nismo predvideli, da bo remake stare igre, kot vitezov in trgovci postala tako priljubljena. Sedanje strežniki, ki jih uporabljamo, so skupne gostitelji namenjeni za gostovanje spletnih strani majhnih in pogosto ne zadoščajo za količino prometa, ki jih prejemamo. V zadnjih nekaj letih smo imeli številna vprašanja z našimi strežniki, ki izhajajo iz izpada zaradi preobremenitve ali težave s ponudnika gostovanja. Drug problem je, da je naš glavni strežnik gostuje v Avstraliji (Lewin je v domači državi), ki je na nasprotni strani sveta v Evropo, kjer je večina naših igralcev živi, ​​kar pomeni, osveževanje seznama strežnikov v igri je zelo počasen za te igralce.
Sedaj imamo rešitev za te težave. V sodelovanju z knightsandmerchants.net (Mednarodna KAM forum in fan skupnost), smo v najemu navideznega zasebnega strežnik (VPS) na Nizozemskem, ki zdaj gosti naslednje storitve:
KAM Remake Multiplayer glavni strežnik

knightsandmerchants.net

www.kamremake.com

KAM skupnost TeamSpeak strežnik na kamts.eu
Ostale storitve, ki jih morda želeli v prihodnosti, kot so multiplayer računov ali globalno v igri chat
Radi bi se zahvalil Tom (T * Anti-V! RuZz) skrbnik knightsandmerchants.net za vse njegovo trdo delo in podporo pri organizaciji tega.
Kako to vpliva na vas?
Navideznega zasebnega strežnik nam daje več nadzora, zanesljivost in vire, kot naših prejšnjih strežnikov. Tu so nekatere spremembe lahko opazite:

Ta spletna stran bo obremenitev hitreje in prenosov se bo hitreje
Seznam strežnik multiplayer v igri bo obremenitev hitreje
Spletna stran in multiplayer glavni strežnik bo bolj zanesljiv (manj izpadov / bugs)
TeamSpeak strežnik skupnost kamts.eu na voljo
Več storitev morda ni na voljo v prihodnje, kot multiplayer računov, če se odločimo za izvajanje te
Kako lahko pomagate?
Strežnik nas stanejo veliko denarja za najem. Cenil bi, če lahko prispeva, da pomagajo ohraniti strežniku in podpirati prihodnji razvoj Kam remake. Obiščite našo stran donacije:
Let us know what you think in the comments 🙂
Lewin in Krom.