UPDATE 19 september 2013: De overdracht van www.kamremake.com naar de nieuwe host is voltooid! Als u problemen heeft met de site laat het ons weten. De gemeenschappelijke TeamSpeak server kamts.eu is ook beschikbaar.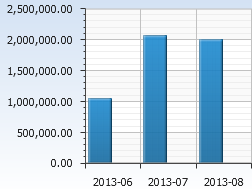 Sinds het project begon is KaM Remake buiten onze verwachtingen gegroeid. Het aantal online spelers in multiplayer piekt regelmatig op meer dan 120. Zowel in juli als augustus heeft onze website www.kamremake.com ongeveer meer dan 2 terabyte aan data overgebracht (zie grafiek rechts), en het is slechts een van onze download mirrors, de meeste downloads hebben zich voorgedaan op andere mirrors, die door fans zijn aangeboden. Aan de andere kant heeft onze multiplayer master server, die de lijst van gameservers-diensten onderhoudt, bijna 2 miljoen individuele verzoeken per maand (gemiddeld 40 per minuut) van ongeveer 20.000 unieke IP-adressen (zie statistieken hieronder).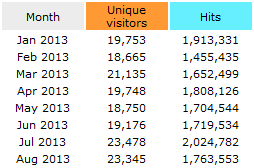 Toen we deze servers opzetten, hielden we geen rekening met dat een remake van een oud spel, zoals Knights and Merchants, zo populair zou worden. De huidige servers die we gebruiken zijn ontworpen om kleine websites te hosten en kunnen de vele dataverkeer dat we ontvangen vaak niet bijhouden. Tijdens de afgelopen jaren hebben we een aantal problemen gehad met servers door overbelasting, waardoor deze uit de lucht gehaald moesten worden, of problemen met de hosting aanbieder. Een ander probleem is dat onze hoofdserver in Australië (waar Lewin woont) staat en dat de meerderheid van onze spelers aan de andere kant van de wereld in Europa woont, waardoor het verversen van de serverlijst erg langzaam is voor deze spelers.
We hebben nu een oplossing voor deze problemen. In samenwerking met knightsandmerchants.net (Het internationale KaM forum en fan-gemeenschap) hebben we een virtual private server (VPS) gehuurd in Nederland die nu host is van de volgende diensten:
KaM Remake Multiplayer master server
knightsandmerchants.net
www.kamremake.com
KaM gemeenschap TeamSpeak server bij kamts.eu
Andere diensten die wij zouden willen in de toekomst, zoals multiplayer rekeningen of wereldwijde in-game chat
Wij willen Tom (T * Anti-V! Ruzz) de beheerder van knightsandmerchants.net bedanken voor al zijn harde werk en ondersteuning bij de organisatie van dit.
Hoe werkt dit voor u?
Een virtual private server geeft ons meer controle, betrouwbaarheid en middelen dan onze vorige servers. Hier zijn een aantal wijzigingen die u kunt merken:

Deze website wordt sneller geladen en downloads zullen sneller zijn
De multiplayer serverlijst in het spel wordt sneller geladen
De website en multiplayer hoofdserver zal betrouwbaarder zijn (minder downtime / bugs)
Gemeenschappelijke TeamSpeak server kamts.eu beschikbaar
Meer diensten, zoals multiplayer profielen, zijn de toekomst beschikbaar als we besluiten deze te implementeren.
Hoe kunt u helpen?
De server kost ons geld om te huren. Wij zouden het waarderen als u kunt bijdragen om de server draaiende te houden en de toekomstige ontwikkeling van de KaM Remake te steunen. Bezoek onze donatie pagina:
Let us know what you think in the comments 🙂
Lewin en Krom.