UPDATE 19.září 2013: Přenos www.kamremake.com na nový host server byl dokončen! Pokud máte jakékoli problémy s tímto webem, dejte nám prosím vědět. Komunitní TeamSpeak server kamts.eu je také k dispozici.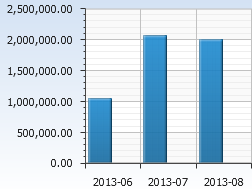 Projekt KaM Remake se od začátku rozrostl nad naše očekávání. Počet online hráčů v multiplayer hře se dnes ve špičkách pohybuje okolo 120. V červenci i srpnu přenesla tato stránka, www.kamremake.com, okolo 2 terabytů dat (viz. graf napravo), a to jsou pouze naše mirrory ke stažení hry, hlavní zátěž je na serverech poskytovaných fanoušky. Na druhou stranu, náš multiplayer master-server, který poskytuje seznam herních serverů, obsluhuje téměř 2 miliony individuálních požadavků za měsíc (průměrně 40 za minutu) z 20 000 jedinečných IP adres (viz. statistiky níže).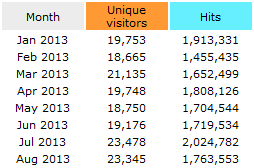 Když jsme zakládali tyto servery, neočekávali jsme že remake staré hry jako Knights and Merchants sklidí takový úspěch. Stávající servery jsou sdílené hostovací prostory, určené pro malé webové stránky a často nedostačují pro provoz, který hráči vytvářejí. Během posledních let jsme měli i několik problémů s poskytovali hostingu. Další problém je, že master-server je hostován v Austrálii (domovská země Lewina), což je na opačné straně světa vůči Evropě, odkud pochází většina hráčů, což znamená, že obnovování online serverů je velmi pomalé.
Nyní přinášíme řešení těchto problémů. Ve spolupráci s knightsandmerchants.net (Mezinárodní KaM fórum s komunitou fanoušků) jsme pronajali virtuální privátní server (VPS) v Nizozemsku, který hostuje následující služby:
KaM Remake Multiplayer hlavní server (master-server)
knightsandmerchants.net
www.kamremake.com
KaM komunitní TeamSpeak server, na kamts.eu
Další služby jako multiplayer účty, globální herní chat atd. bychom chtěli spustit v budoucnu.
Rádi bychom poděkovali Tomovi (T * Anti-V! RuZz) správci knightsandmerchants.net za všechnu svou tvrdou práci a podporu při organizaci.
Jak to ovlivní vás?
Virtuální privátní server nám dává více kontroly, spolehlivosti a prostředků než předchozí server. Zde jsou některé změny kterých si můžete povšimnout:

Tyto stránky se načítají rychle a stahování je rychlejší
Seznam herních serverů ve hře se načítá rychlejí
Stránky a multiplayer master-server budou spolehlivější (méně pádů/bugů)
Komunitní TeamSpeak server kamts.eu dostupnější
Dále mohou být spouštěny další služby, pokud se je rozhodneme realizovat.
Jak můžete pomoci?
Pronájem serveru nás stojí peníze. Ocenili bychom, pokud můžete přispět a pomoci tak udržet server v běhu, podpoříte tak i další vývoj KaM Remake. Navštivte naši Donate (darovací) stránku:
Let us know what you think in the comments 🙂
Lewin a Krom.