Mise à jour du 19 Septembre 2013: Le transfert de www.kamremake.com est terminé! Si vous avez des problèmes lors de la consultation du site veuillez nous le faire savoir. Le serveur TeamSpeak de la communauté kamts.eu est également disponible.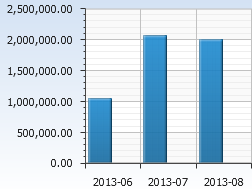 Le projet KaM Remake ne cesse, depuis le début, de grandir ; et ce, au-delà de nos espérances. Le nombre de joueurs participants à des parties multijoueurs en ligne franchit régulièrement le seuil des 120 connectés. Pendant les seuls mois de Juillet et d'Août notre site www.kamremake.com a transféré l'équivalent de 2 téraoctets de trafic (voir graphique à droite), et ce n'est que l'un de nos miroirs de téléchargement, la majorité des téléchargements ayant lieu sur des miroirs fournis par les fans. D'autre part, notre serveur multijoueur central, qui maintient la liste des serveurs de jeux disponibles a répondu à près de 2 millions de requêtes par mois (40 par minute en moyenne) , requêtes provenant d'environ 20.000 adresses IP uniques (voir les statistiques ci-dessous).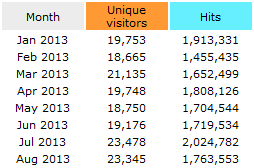 Lorsque nous avons créé ces serveurs, nous n'avions pas prévu que d'un remake d'un vieux jeu comme Knights and Merchants deviendrait si populaire.
Nous avons maintenant une solution à ces problèmes. En coopération avec knightsandmerchants.net (Le forum international KaM et communauté de fans), nous avons loué un serveur privé virtuel (VPS) dans les Pays-Bas qui accueille maintenant les services suivants:
KaM Remake Multijoueur serveur maître
knightsandmerchants.net

www.kamremake.com

KaM communauté serveur TeamSpeak à kamts.eu
D'autres services que nous pourrions vouloir mettre en place à l'avenir tels que les comptes multijoueur ou une messagerie instantanée globale durant les parties.
Nous tenons à remercier Tom (T * Anti-V! Ruzz) l'administrateur de knightsandmerchants.net pour tout son dur travail et le soutien dans l'organisation de cette opération.
Comment cela vous affecte?
Un serveur privé virtuel nous donne plus de contrôle, de fiabilité et de ressources que nos serveurs précédents. Voici quelques changements que vous remarquerez peut-être:

Ce site se chargent plus rapidement et téléchargements sera plus rapide
La liste des serveurs multijoueur dans le jeu se chargera plus vite
Le site web et le serveur maître multijoueur seront plus fiables ( moins de pannes / bogues)
Serveur TeamSpeak de la communauté kamts.eu disponible
Plus de services peuvent être disponibles à l'avenir, comme les comptes multijoueurs si nous décidons de mettre en œuvre cette
Comment pouvez-vous nous aider ?
La location du serveur nous coûte de l'argent. Nous vous serions reconnaissants si vous pouviez nous aider à garder le serveur actif et soutenir le développement futur de KaM Remake. Visitez notre page de dons :
Let us know what you think in the comments 🙂
Lewin et Krom.