2013. szeptember 19. FRISSÍTÉS:A www.kamremake.com költözése az új hostra befejeződött! Ha bármilyen probléma vagy kérdés merülne fel az új oldal kapcsán, tudassa velünk. TeamSpeak szerver közössége kamts.eu is rendelkezésére áll.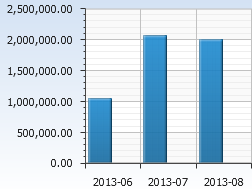 Mióta a project elindult, a KaM Remake túlnőtte a várakozásainkat. A játékosok száma online többjátékos módokban rendszeresen több 120-nál. Júliusban és Augusztusban is a honlapunkon www.kamremake.com körülbelül 2 terabájt a forgalom volt (lásd a grafikont jobbra), és ez csak az egyik letöltési tükrünk. A többségi letöltés a többi, rajongók álltal biztosított tükrökön ment végbe. Másrészt, a többjátékos master szerveren, amely kezeli a játékok listáját, közel 2 millió egyéni kérelmet nyújtottak be havonta, (átlagosan 40 percenként) körülbelül 20.000 különböző IP-címről (lásd statisztikák).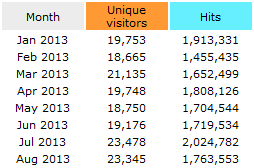 Amikor felállítottuk ezeket a szervereket, nem is reméltük, hogy egy feldolgozása egy régi játéknak mint a Knights and Merchants ilyen népszerű lehet. A mostani szervereink, amiket használunk, megosztószerverek, amik kicsi weboldalak futtatására alkalmasak, így a mi igényeinket nem tudják kielégíteni. Az utóbbi pár évben sok problémánk volt a szerverekkkel, ezért sokszor nem működtek. Másik probléma az volt, hogy a master szerver Ausztráliában helyezkedik el (Lewin otthona), ami a világ másik felén van, mivel legtöbb játékosunk Európai, ezért a szervereke listájának frissítése nagyon lassú ezeknek a játékosaink számára.
Most már van megoldás ezekre a problémákra. Együttműködve knightsandmerchants.net (A nemzetközi KaM fórumon, és rajongói közösség) már bérelt egy virtuális privát szervert (VPS) Hollandiában, amely ma otthont ad a következő szolgáltatásoknak:
KaM Remake többjátékos master szerver
knightsandmerchants.net
www.kamremake.com
KaM TeamSpeak közösség szerver kamts.eu
Egyéb szolgáltatásokat talán szeretnénk a jövőben, mint például a többjátékos accountok vagy a globális in-game cset
Szeretnénk köszönetet mondani Tomnak (T*Anti-V!RuZz), knightsandmerchants.net rendszergazdájának a kemény munkájáért és, hogy megszervezte ezt az egészet.
Hogyan érint ez téged?
A virtuális privát szerver nagyobb ellenőrzést ad, megbízhatóságot és nagyobb erőforrást, mint az előző szerverek. Íme néhány változás, ami észrevehető:

Ez a weboldal gyorsabban betöltődik, és a letöltések gyorsabbak lesznek
A többjátékos szerverek listája gyorsabban betöltődik a játékban
A honlap és a többjátékos master szerver sokkal megbízhatóbb lesz (kevesebb leállás/hiba)
Közösségi TeamSpeak szerver kamts.eu rendelkezésre áll
További szolgáltatások állnak rendelkezésre majd a jövőben, mint például a többjátékos accountok, ha úgy döntünk...
Hogyan segíthet?
A szervert kölcsönözni drága. Nagyra értékelnénk, ha Ön is hozzájárulna a szerver fenttartásához, és a jövőbeli KaM Remake fejlesztéshez. Látogassa meg az adományozó oldalainkat:
Let us know what you think in the comments 🙂
Lewin és Krom.