UPDATE 19. september 2013: Üleandmine www.kamremake.com et uus masin on lõppenud! Kui teil on küsimusi kohas, siis palun andke meile teada. Ühenduse TeamSpeak server kamts.eu on ka olemas.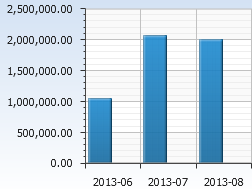 Kuna projekt algas Kam uusversiooni on kasvanud üle meie ootuste. Mängijate arv online multiplayer regulaarselt piigid üle 120. Mõlemal juuli ja august meie kodulehel www.kamremake.com üle umbes 2 TB liiklus (vt graafik paremale), ja see on ainult üks meie download peeglid, enamik allalaadimine esineda teiste peeglid poolt fännidele. Teiselt poolt, meie multiplayer master server pidavat mängude loetellu Serverid Teenused ligi 2 miljonit individuaalsete taotluste kuus (keskmiselt 40 minuti) umbes 20.000 unikaalne IP-aadressid (vt statistika allpool).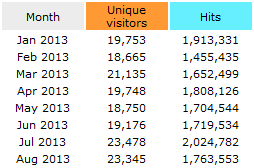 When we set up these servers we did not anticipate that a remake of an old game like Knights and Merchants would become so popular. The current servers we use are shared hosts designed for hosting small websites, and are often not adequate for the amount of traffic we receive. Over the past few years we have had a number of issues with our servers resulting in downtime due to overloading or issues with the hosting provider. Another problem is that our master server is hosted in Australia (Lewin's home country) which is on the opposite side of the world to Europe where the majority of our players live, meaning refreshing the server list in game is very slow for these players.
We now have a solution to these problems. In cooperation with knightsandmerchants.net (the international KaM forum and fan community) we have rented a virtual private server (VPS) in the Netherlands which now hosts the following services:
Kam uusversiooni Multiplayer master server

knightsandmerchants.net

www.kamremake.com

Kam kogukond TeamSpeak server

kamts.eu

Muud teenused tahetakse tulevikus nagu multiplayer kontode või globaalne in-game chat
We would like to thank Tom (T*AnTi-V!RuZz) the administrator of knightsandmerchants.net for all his hard work and support in organising this.
How does this affect you?
A virtual private server gives us more control, reliability and resources than our previous servers. Here are some changes you may notice:

Käesolev veebisait laeb kiiremini ja allalaadimine on kiirem
Multiplayer server nimekiri-mängu laeb kiiremini

The website and multiplayer master server will be more reliable (less downtime/bugs)

Ühenduse TeamSpeak server

kamts.eu

saadaval
Veel teenuseid võib olla võimalik ka tulevikus, nagu multiplayer kontode kui me otsustame seda rakendama
How can you help?
The server cost us money to rent. We would appreciate if you can contribute to help keep the server running and support future development of the KaM Remake. Visit our donations page:
Let us know what you think in the comments 🙂
Lewin ja kromi.