UPDATE 19.Septembra 2013: Prenos www.kamremake.com do nového hostiteľa bola dokončená! Ak máte nejaké problémy s týmto webom, dajte nám prosím vedieť. Komunita TeamSpeak servera kamts.eu je tiež k dispozícii.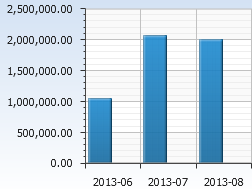 Od začiatku projektu KaM Remake sa rozrástla naše očakávania. Počet hráčov on-line v multiplayeri pravidelne vrcholí na viac ako 120. V oboch júli a auguste naše webové stránky www.kamremake.com previedlo asi 2 TB prevádzky (pozri graf doprava), a to je len jeden z našich download zrkadiel, väčšina stiahnutie objaviť na iných zrkadiel poskytnutých fanúšikov. Na druhú stranu, naše multiplayer master server, ktorý udržuje zoznam herných serverov služieb takmer 2 milióny individuálnych požiadaviek za mesiac (priemerne 40 za minútu) od cca 20.000 unikátnych IP adries (pozri štatistiky nižšie).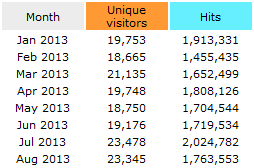 Keď sme nastavenie týchto serverov sme netušili, že remake starej hry ako Knights and Merchants by sa stal tak populárny. Súčasné servery, ktoré používame, sú zdieľané počítače určené pre organizovanie malých webových stránok, a často nie sú vhodné pre množstvo dopravy, ktoré dostávame. Počas niekoľkých posledných rokov sme mali niekoľko problémov s našimi servermi v dôsledku prestoje v dôsledku preťaženia alebo problémy s poskytovateľom hostingu. Ďalším problémom je, že náš hlavný server je umiestnený v Austrálii (Lewin domovskej krajiny), ktorý je na opačnej strane sveta do Európy, kde väčšina našich hráčov žijú, čo znamená, osviežujúci zoznam serverov v hre je veľmi pomalé týchto hráčov.
Teraz máme riešenie týchto problémov. V spolupráci s knightsandmerchants.net (Medzinárodná KaM fórum a ventilátor komunita), sme si prenajali Virtual Private Server (VPS), v Holandsku, ktoré teraz hostí nasledovné služby:
KaM Remake Multiplayer master servera
knightsandmerchants.net
www.kamremake.com
KaM komunita TeamSpeak server, na kamts.eu
Ďalšie služby by sme mohli chcieť v budúcnosti, ako je multiplayer účtov alebo globálneho chatu v hre
Radi by sme poďakovali Tom (T * Anti-V RuZz!) Správca knightsandmerchants.net za všetku svoju tvrdú prácu a podporu pri organizovaní tejto.
Ako to ovplyvní vás?
Virtuálna privátna server nám dáva väčšiu kontrolu, spoľahlivosť a zdroje, ako naše predchádzajúce serverov. Tu sú niektoré zmeny, môžete si všimnúť:

Táto webová stránka sa načíta rýchlejšie a sťahovania bude rýchlejší
Zoznam multiplayer servery v hre sa budú načítavať rýchlejšie
Webové stránky a multiplayer hlavný server bude spoľahlivejší (menej prestojov / chyby)
TeamSpeak servera Spoločenstva kamts.eu dostupný
Ďalšie služby môžu byť v budúcnosti k dispozícii, ako sú účty pre viac hráčov, ak sa rozhodneme realizovať, že
Ako môžete pomôcť?
Server nám stojí peniaze na prenájom. Ocenili by sme, môžete prispieť k pomôcť udržať chod servera a podporovať budúci rozvoj KaM Remake. Navštívte našu stránku dary:
Let us know what you think in the comments 🙂
Lewin a Krom.