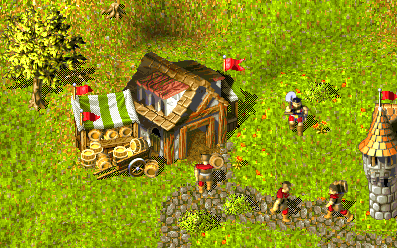 In minder dan twee maanden na de laatste versie hebben we een nieuwe demo klaar! Zoals altijd kunt u die vinden op de downloadpagina. Als u al de vorige versie geïnstalleerd (r2411) ziet u alleen de 14MB patch nodig. (Kam_remake_update_r2678.exe)

Server admins: Werk uw servers zo snel mogelijk bij.
Grote wijzigingen:
Meer dan 50 bugs / crashes opgelost!
Meer dan 20 kleine verbeteringen
Automatisch opnieuw verbinden voor multiplayer (willekeurige verbroken verbindingen met een "server niet meer reageert" zijn meestal verleden tijd!)
Coöperatieve modus voor de multiplayer
Meer dan 20 nieuwe multiplayer maps
Gedwongen vredestijd voor de multiplayer (optioneel)
Verbeterde lobby met taalvlaggen, gecategoriseerde kaarten en een mooiere lay-out
De mogelijkheid om herhalingen van de opgeslagen spellen (singleplayer en multiplayer) te bekijken
Verbeterde multiplayer resultatenscherm
Nieuwe geluidseffecten dankzij trb1914
Goederen zijn weergegeven in de markt (met dank aan Malin!)
Nieuwe vertalingen: Italiaans, Spaans en Braziliaans Portugees
Bekijk de complete lijst van veranderingen
Een nieuw lid Danjb heeft zich aangesloten bij ons development team. Dan is al heeft de lobby al opnieuw ingericht en voegde er een shuffle optie voor de muziekspeler aan toe, zult u beiden zien in deze versie. Hij is nieuw in de taal (Delphi), maar hij leert snel, het is geweldig om nog een ander persoon in onze Krom en Lewin team te hebben.
Malin van kamclub.ru created over 300(!) sprites showing wares in the marketplace! (see picture above) We would like to thank him for this enormous contribution to the project, it really brings the marketplace to life! 🙂
Hartelijk dank aan iedereen die met deze release geholpen heeft door het maken van kaarten, playtesten, vertalen, en melden van fouten. Gelieve te helpen met het verspreiden van het woord over de remake door het plaatsen van informatie op fora, social media sites en ergens anders waar je maar kunt bedenken! We willen zo veel mogelijk spelers als mogelijk aantrekken.
We zien je online!