Hvala za vašo potrpežljivost, KAM Remake Scripting Demo je končno pripravljen!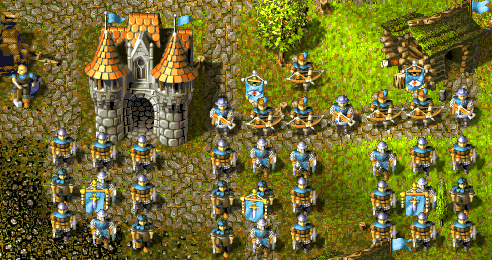 UPDATE (30/06/2013): Imamo določil pomnilnika v namenskega strežnika in sprosti posodobljene strežniške izvršljiv (r5047). Lahko dobite novo ZIP na stran prenosov. Operaterji strežnika posodobite!
Najdete ga na stran prenosov. Če že imate nameščeno starejšo različico (r4179) morate le prenesti nameščanje posodobitev (42MB), v nasprotnem primeru boste morali celoten namestitveni program (258mb).

Največja značilnost v tej izdaji je novi dinamični skriptni sistem. Omogoča zemljevid avtorji pisati kode skript, ki se izvrši, medtem ko igrate, ki omogoča preproste stvari, kot ojačitve, ki prihajajo na robu zemljevida, kot tudi povsem nove načine igre, kot so zabava z zastavami (Florescence enega) Siegfried. Ben je organizirala Tekmovanje za dinamične scenarij misijah, Tako da pričakujem, da vidim veliko bolj ustvarjalne in vznemirljive nove naloge v prihodnjih mesecih!
Tu so nekatere od najbolj pomembnih sprememb:
Bilanca
Vse enote s ščitom (axefighters, swordfighters, taborniki in vitezi) dobil 1 obramba pred gibale enot (bowmen in lokostrelcev), da bi postali bolj funkcionalni
Bowmen (ne lokostrelcev) nekoliko hitreje naložiti, da bodo bolj uspešne
Trgovanje je nekoliko cenejši na trgu
Lastnosti
Dinamične skripte

Samostojna AI vlaki vojakov in določa obrambne linije (kot je prikazano zgoraj na sliki), še vedno nedokončan

Gostitelj lahko nastavite hitrost igre od 1.0x do 3.0x v preddverju (med in po mirnodobnem nastavite ločeno)
New Singleplayer kampanja, ki jo vasi z 10 misijami
Gostitelj lahko nastavite geslo za preddverju, da bi zasebnim igre
Gostitelj lahko nastavite opis za lobija, ki je prikazan za izbrani strežnik na seznam strežnikov (na primer "novi igralci le")
FPS je prikazan poleg ping, tako da lahko prepoznajo igralce, ki povzročajo lag
Blok dostavo posebnih orožja v barake

S klikom na minimap lokaciji v avli pobere

Lokacija in zastava selektor barva za enega igralca zemljevidov
Možnost v preddverju, da Poslučajiti lokacije znotraj vsake ekipe
Sposobnost, da pošljete zasebno klepet s posebnim predvajalnikom (šepet)
Megla vojne lahko predstavljamo za izbrani igralec v ponovitvah
Se lahko premikate po zemljevidu, ki ga povlečete s stisnjenim kolešček
Izboljšave
Izboljšana vojska preurejanjem (video)

Urejevalnik zemljevida je predvsem funkcionalna zdaj, nekaj manjših funkcije še manjkajo (undo / redo), ampak vse ostalo se zdi, da se tam

Sporočila za hiše in vojakov so zbrani v dnevniku sporočil namesto posameznih sporočil
Spremenjena odklepanje Da bi začetek igre hitreje in bolj zanimivo, zdaj privzeto šolo in gostilno sta oba odklenjena na začetku, in kamnolom in drvarji sta oba odklenjena po izgradnji šole
Pomemben pathfinding in uspešnosti AI optimizacije
Pritiskom na tipko izbere zemljevid začenši s tem dopisom v karti / shranite sezname

Co-op misije ne potrebujejo več, da ročno nastavite lokacije AI

Prenehali z gradbeniki praznjenje stolpi izkoristiti, zdaj gradbeniki ne približajo sovražnik stolpi.
Popravljene napake (najbolj pomembno)
Kmetje so bolj učinkoviti na področju delitve
Orožje se lahko vzame iz vojašnice, da se z njo trguje na trgu
Karte / shranjeni seznami igre obremenitev veliko hitreje, potem ko je prvič
Vojaki naročeno za napad bowmen bo sledil bowmen če se odmakne
Fiksna izkoriščajo, kjer bi lahko povečali stopnjo enot požara gibala s ponavljanjem naročilo v pravem trenutku (kot napad hiši)
Veliko več hroščev / zruši osnovna
Polno Changelog je mogoče najti po namestitvi v datoteki Changelog.txt.
Radi bi dal velik hvala vsem našim beta testerjev, ki so pomagali, da to stabilna različica z iskanjem in poročanje hroščev v beta testiranju.
Prosimo, razmislite o darovanju za podporo prihodnji razvoj projekta:
We hope you enjoy the new release, let us know what you think in the comments! 🙂
Lewin in Krom.