Ďakujem vám za vašu trpezlivosť, KaM Remake Scripting Demo je konečne dokončené!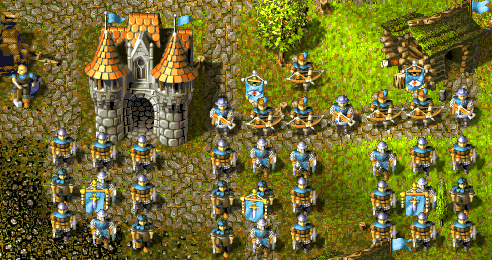 UPDATE (30/06/2013): Opravili sme pretečeniu pamäte v dedikovaný server a vydala aktualizované servera spustiteľné súbory (r5047). Môžete získať nové ZIP na Na stiahnutie. Prevádzkovatelia servera aktualizujte prosím!
Nájdete ho na Na stiahnutie. Ak už máte nainštalovanú predchádzajúcu everziu (r4179) tak potrebujete stiahnuť iba aktualizáčný balík (42MB), inak budete musieť nainštalovať celý Remake (258 MB).

Najväčšou funkciou tejto verzie je nový systém pre dynamické skriptovanie. Tvorcom máp umožňuje písať kód skriptu, ktorý je spustený počas hry, umožňujúc jednoduché činnosti ako napríklad posily ktoré prídu na okraji mapy, rovnako ako aj úplne nové herné módy ako Fun with Flags (Florescence One) od Siegfrieda. Ben taktiež usporadúva súťaže v dynamickom skriptovaní misií, takže v nasledujúcich mesiacoch môžeme očakávať oveľa viac kreatívnych a zaujímavých misií!
Tu sú niektoré z najvýznamnejších zmien:
Vyváženie
Všetky jednotky so štítom (sekerníci, bojovníci s mečom, zvedovia a rytieri) získali o 1 stupeň väčšiu ochranu oproti strelcom (lukostrelcom a strelcom z kuše) aby sa zvýšila ich životaschopnosť
Lukostrelci (nie strelci z kuše) nabíjajú o niečo rýchlejšie pre zvýšenie ich efektivity a životaschopnosti
Obchodovanie na tržnici je o niečo výhodnejšie
Vlastnosti
Dynamické skripty

Samostatný AI vlaky vojakov a nastaví obrannej línie (ako je uvedené vyššie na obrázku), stále ešte nedokončený

Hostiteľ môže nastaviť rýchlosť hry od 1,0 x až 3.0x v hale (v priebehu a po mierovej nastaviť samostatne)
Nový Kampaň vyrobený Vas s 10 misiami
Hostiteľ môže nastaviť heslo pre lobby, aby súkromné ​​hry
Hostiteľ môže nastaviť popis hale, ktorý je uvedený na vybraný server v zozname serverov (napr. "iba noví hráči")
FPS je uvedená vedľa ping, takže môžete identifikovať hráčov spôsobuje meškanie
Dodávka blok konkrétnych zbraní do kasární

Kliknutím na mieste minimape v hale vyberie to

Umiestnenie a vlajky výber farby pre single-player máp
Variant v hale na náhodne umiestnenie v rámci každého tímu
Schopnosť posielať súkromný chat na konkrétny hráč (šepot)
Hmla vojny možno vizualizovať na zvolenom prehrávači v záznamoch
Môžete sa prechádzať po mape ťahaním so stlačeným kolieskom
Vylepšenia
Lepšie armáda preskupiť (video)

Mapa Editor je teraz väčšinou funkčná, pár drobných funkcie sú stále chýba (undo / redo), ale všetko ostatné sa zdá byť tam

Správy pre rodinné domy a vojakov sú zhromažďované v protokole správ skôr ako jednotlivých správ
Zmenený odblokovanie Aby začiatku hry rýchlejšie a zaujímavejšie, teraz v predvolenom nastavení školy a hostince sú ako odomknúť na začiatku, a lom a drevorubači sú ako odomknúť po vybudovaní školy
Významné pathfindingom a výkonnosti AI optimalizácia
Stlačením tlačidla vyberie mapa začínajúcich týmto písmenom v mape / ukladať zoznamy

Co-op misie už nevyžadujú nastaviť umiestnenie AI ručne

Zastavenej stavitelia vyprázdňovanie veže využívať, teraz stavitelia nemajú prístup nepriateľské veže.
Opravy chýb (najdôležitejšie)
Poľnohospodári sú účinnejšie v oblastiach zdieľanie
Zbrane môžu byť vyradené z kasární, ktoré majú byť obchodované na trhu
Mapy / Uložené zoznamy hra načíta oveľa rýchlejšie po prvom
Vojaci rozkaz k útoku lukostrelcov bude sledovať lukostrelcov, ak sa vzdiali
Pevná využitie, kde by sa mohol zvýšiť na diaľku rýchlosť jednotiek požiaru opakovaním príkazu v pravú chvíľu (napr. útok domu)
Mnoho ďalších chyby / pády pevné
Kompletný changelog nájdete po inštalácii v súbore Changelog.txt.
Chceli by sme sa srdečne poďakovať našim beta testerom, ktorí nám pomohli urobiť túto verziu stabilnou hľadaním a nahlasovaním chýb počas beta testovania.
Zvážte prosím finančný príspevok na podporu budúceho vývoja projektu:
We hope you enjoy the new release, let us know what you think in the comments! 🙂
Lewin a Krom.