Täname teid kannatlikkuse eest, Kam uusversiooni Scripting Demo on lõpuks valmis!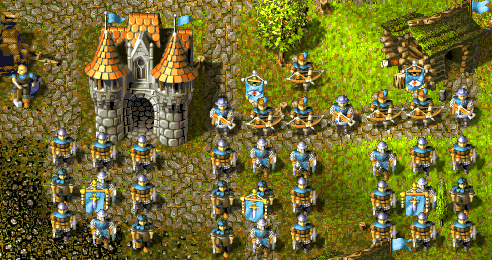 UPDATE (30.06.2013): Oleme kindlaks mälu leke dedicated server ja vabastatakse uuendatud server käivitatavad (r5047). Saad uusi ZIP kohta download lehele. Server ettevõtjad uuendage!
Leiad selle kohta download lehele. Kui sul on juba varasema versiooni installitud (r4179) on vaja ainult alla laadida uuendatud installer (42MB), vastasel juhul pead täis installer (258mb).

Suurim element selles versioonis on uus dünaamiline skriptimine süsteem. See võimaldab kaardi autorid kirjutada script koodi, mis käivitatakse, kui te mängida, võimaldades nii lihtsaid asju nagu tugevdused jõuda serva kaart, samuti täiesti uus mäng transpordiliikide nagu Fun lippudega (fluorestsentsindikaatorita One) by Siegfried. Ben on korraldanud konkursi dünaamiline kirjutasid missioone, Nii et oodata on palju loovam ja uusi põnevaid missioone lähikuudel!
Siin on mõned kõige olulisemad muudatused:
Tasakaal
Kõik üksused kilp (axefighters, swordfighters, skaudid ja rüütlid) saada 1 kaitseliin jäi ühikut (vibumehi ja crossbowmen), et muuta need elujõulised
Vibumehi (ei crossbowmen) laadida veidi kiiremini teha elujõulisemaks
Kauplemine on veidi odavamad turul
Omadused
Dynamic skriptid

Standalone AI rongid sõdurid ja seab riigikaitse read (nagu eespool näidatud pildil), veel lõpetamata

Host on võimalik valida mängu kiiruse 1.0x kuni 3,0 x fuajees (ajal ja pärast rahuajal määratud eraldi)
Uus ühemängija kampaania teinud Vas 10 missioonidel
Host võib seada parooli lobby võimaldada erasektori mängud
Host on võimalik valida kirjeldus lobby mis kuvatakse valitud server server list (näiteks "uutele mängijatele ainult")
FPS kõrval näidatakse ping nii saate tuvastada mängijad põhjustades lag
Block kohaletoimetamise konkreetse relva kasarmud

Klõpsates minimap asukoha salongis korjab selle

Asukoht ja lipu värv valijat Üksikmängu kaardid
Võimalus fuajees randomiseerida kohtadest iga meeskond
Võime saata privaatvestlusel konkreetse mängija (vaikne)
Fog of war saab visualiseerida valitud mängija kordused
Võite liikuda kaardil ringi, lohistades pressitud Kerimisratast
Parandused
Parem armee ümberkorraldamine (video)

Kaart Editor on enamasti funktsionaalne nüüd, mõned väikesed funktsioonid on endiselt kadunud (undo / Redo), kuid kõik muu tundub olevat seal

Sõnumid majade ja sõdurid on kogutud sõnum samamoodi, mitte üksikute sõnumite
Muutunud vabastades, et teha algust mängu kiiremaks ja huvitavamaks, nüüd vaikimisi kool ja võõrastemaja on nii lukustamata alguses ja karjäär woodcutters mõlemad lukustamata pärast hoone koolis
Olulised pathfinding ja AI tulemuslikkuse optimeerimisi
Klahvi vajutades valib kaardi, alustades selle kirja kaart / salvestada nimekirjad

Co-op missioone ei nõua enam seadistada AI kohtades käsitsi

Tasuda ehitajad tühjendamise tornid ära, nüüd ehitajad ei lähene vaenlase tornid.
Veaparandused (kõige olulisem)
Põllumajandustootjad on tõhusam jagamisele väljad
Relvad saab välja võtta kasarmud kaubeldakse turul
Kaardid / salvestatud mängu nimekirjad laadida palju kiiremini pärast esimest korda
Sõdurid tellitud rünnata vibumehi jälgib vibumehi kui nad minema
Fikseeritud ära, kus sa võiksid suurendada jäi üksuste laskekiirus korrates, et õigel ajal (näiteks rünnak maja)
Paljud putukad / jookseb määratud
Täielik muutus võib leida pärast paigaldamist faili Changelog.txt.
Soovime anda suur tänu kõigile meie beta testijad, kes aitasid selle release stabiilne leides ja aruandlus Bugs ajal beta testimine.
Palun kaaluge annetuse, et toetada edasist arengut projekti:
We hope you enjoy the new release, let us know what you think in the comments! 🙂
Lewin ja kromi.