Благодарим Ви за търпението, на Кам Римейк Scripting демо-сетне е готов!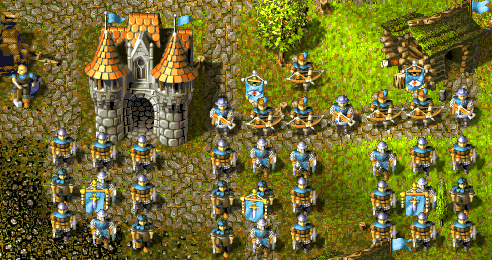 UPDATE (30/06/2013): Ние имаме фиксиран изтичане на памет в специален сървър и освобождава обновяват сървърни изпълними файлове (r5047). Можете да получите най-новата ZIP относно страницата за изтегления. Оператори Сървърни моля обновете!
Можете да го намерите на страницата за изтегления. Ако вече имате инсталирана предишната версия (r4179), вие само трябва да изтеглите инсталатора на обновяване (42MB), в противен случай ще ви е необходима пълна инсталатора (258mb).

Най-голямата особеност в тази версия е новата динамична система скриптове. Тя позволява на картата автори да пишат скрипт код, който се изпълнява, докато играят, което позволява на прости неща, като подкрепления, които пристигат в края на картата, както и изцяло нови режими на игра, като например Fun с Flags (флуоресцентен един) от Зигфрид. Бен е организирала конкурс за динамични сценарист мисии, Така че очаквайте да видите много по-креативни и вълнуващи нови мисии през следващите месеци!
Ето някои от най-важните промени:
Баланс
Всички единици с щит (axefighters, swordfighters, скаути и рицари) Вземи една защита срещу варираха единици (стрелци и арбалетисти), за да ги направи по-жизнеспособен
Стрелци (не арбалетисти) презареди малко по-бързо, за да ги направи по-жизнеспособен
Trading е малко по-евтино от пазара
Характеристики
Динамични скриптове

Standalone AI обучава войници и определя отбранителни линии (както е показано по-горе на снимката), все още незавършен

Host да зададете скорост на игра от 1.0x до 3.0x във фоайето (по време и след мирно време настройва отделно)
New сингълплейър кампания, направена от Vas с 10 мисии
Host да зададете парола, за да позволи на частните фоайето игри
Host да зададете описание за лобито, което е показано за избрания сървър в списъка със сървъри (например "нови играчи само")
FPS показва до пинг така че можете да видите какви играчи причинява лаг
Блок доставка на специфични оръжия в казармата

Кликвайки върху местоположение миникартата в лоби го взима

Разположение и знаме избор на цвят за един играч карти
Опция във фоайето на случаен подбор на обекти в рамките на всеки отбор
Възможност за изпращане на частен разговор с конкретен играч (шепот)
Мъглата на войната може да се визуализира за избрания играч в повторения
Можете да се движите из картата чрез влачене с натиснат скрол колело
Подобрения
Подобрена армия пренареждане (видео)

Map Editor е най-вече функционален сега, няколко второстепенни характеристики все още липсват (Undo / Redo), но всичко останало изглежда да е там

Съобщения за къщи и войници са събрани в дневника съобщение, а не отделни съобщения
Променена отключване, за да се направи в началото на играта по-бързо и по-интересно, сега по подразбиране на училището и кръчмата са както отключена в началото, и кариерата и дърворезбари са двете отключени след изграждането на училището
Значително Pathfinding и изпълнение AI оптимизации
Натискането на клавиш избира карта започва с тази буква в карта / спаси списъци

Кооп мисии вече не изискват от вас да се определят местата AI ръчно

Спряно строители изпразване кули експлоатират, сега строители не се приближават вражеските кули.
Корекции на грешки (най-важното)
Земеделските производители са по-ефективни при полета за споделяне
Оръжията могат да бъдат извадени от бараките да се търгуват на пазара
Карти / запаметени списъци игра се зареждат много по-бързо, след като за първи път
Soldiers наредено да атакува стрелци ще следват стрелците, ако те се движат далеч
Фиксирана използват, където бихте могли да увеличите варира скоростта на огън единици ", като повторите заповед в точния момент (като атака къща)
Много повече грешки / катастрофи фиксирани
Пълният ChangeLog може да се намери след инсталирането на файла changelog.txt.
Бихме искали да се даде голяма благодарност на всички наши бета тестери, които помогнаха направи това освобождаване стабилна чрез намиране и съобщения за грешки по време на бета тестване.
Моля, помислете за дарения подкрепи бъдещото развитие на проекта:
We hope you enjoy the new release, let us know what you think in the comments! 🙂
Lewin и Krom.