Vă mulțumim pentru răbdare, Kam Remake Scripting Demo este în sfârșit gata!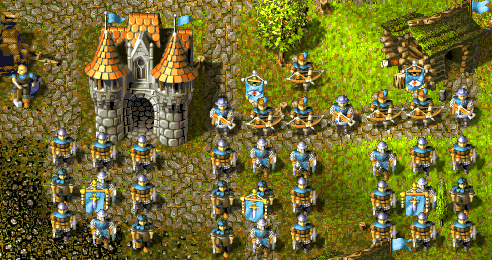 UPDATE (30/06/2013): Ne-am stabilit o scurgere de memorie în server dedicat si a lansat executabile servere actualizate (r5047). Puteți obține noul zip pe pagina de download-uri. Operatorii de server vă rugăm să actualizați!
Puteți găsi pe pagina de download-uri. Dacă aveți deja versiunea anterioară instalată (r4179), trebuie doar să descărcați programul de instalare de actualizare (42mb), altfel veți avea nevoie de instalare complet (258mb).

Cea mai mare caracteristică în această versiune este noul sistem dinamic de scripting. Acesta permite hartă autorilor de a scrie cod de script-ul care se execută în timp ce te joci, permițându lucruri simple, cum ar fi întăriri care sosesc de la marginea hărții, precum și cu totul noi moduri de joc, cum ar fi distractiv cu Steaguri (înflorire One) de Siegfried. Ben a organizat o concurență pentru misiuni dinamice scriptate, Astfel încât se așteaptă să vadă o misiune mult mai creative și interesante noi în lunile următoare!
Aici sunt unele dintre cele mai importante modificări:
Echilibru
Toate unitățile cu un scut (axefighters, cavaleriei, cercetași și cavaleri) a obține o apărare împotriva unități au variat (arcași și crossbowmen), pentru a le face mai viabile
Arcași (nu crossbowmen) reîncărca ușor mai rapid pentru a le face mai viabile
Tranzacționare este ușor mai ieftin la piata
Caracteristici
Script-uri dinamice

Standalone AI trenuri de soldați și stabilește liniile de apărare (așa cum se arată mai sus, în captura de ecran), încă neterminat

Gazdă poate seta viteza de joc de la 1,0 x la 3,0 x în lobby-ul (în timpul separat și după ce timp de pace stabilit)
Noua campanie singleplayer realizate de Vas cu 10 de misiuni
Gazdă poate seta o parolă pentru lobby-ul pentru a permite jocuri private,
Gazdă poate seta o descriere pentru lobby-ul, care este prezentat pentru serverul selectat din lista de servere (de exemplu, "doar noi jucători")
FPS dovedit lângă ping astfel încât să puteți identifica jucătorii care provoacă lag
Livrare bloc de arme specifice cazarmă

Dacă faceți clic pe locația minimap în lobby-l preia

Locație și flag selectorul de culoare pentru hărți single-player
Opțiune în lobby-ul pentru a intamplare locații din fiecare echipă
Abilitatea de a trimite chat-ul privat la un anumit jucător (șoaptă)
Ceață de război pot fi vizualizate pentru jucătorul selectat în reluari
Puteți defila în jurul harta prin glisarea cu scroll wheel apăsat
Îmbunătățiri
Armată îmbunătățit rearanjarea (video)

Harta Editor este cea mai mare parte funcțional acum, câteva caracteristici minore sunt încă date dispărute (undo / redo), dar totul pare a fi acolo

Mesaje pentru case și soldați sunt colectate într-un mesaj de jurnal, mai degrabă decât mesajele individuale
Pentru deblocare schimbat pentru a face la începutul jocului mai repede și mai interesant, acum în mod implicit școală și han sunt deblocate, atât la începutul, iar cariera și tăietori de lemne sunt atât deblocate după construirea școală
Pathfinding semnificativ și de performanță AI optimizare
Apăsarea unei taste selectează harta începând cu această scrisoare în hartă / salva liste

Misiuni co-op nu mai au nevoie să setați manual locațiile AI

Turnuri de constructori oprit golire exploata, acum constructorii nu se apropie turnuri inamice.
Remedieri de bug-uri (cel mai important)
Agricultorii sunt mai eficiente în domenii de partajare
Arme pot fi luate din barăci să fie comercializate pe piața
Listele de joc hărți / salvate incarca mult mai rapid după prima dată
Soldații ordonat să atace arcași vor urma arcașilor, dacă acestea se mute departe
Fixed exploata în cazul în care ar putea crește rata a variat de unități "de foc prin repetarea un ordin la momentul potrivit (cum ar fi Casa de atac)
Mult mai multe bug-uri / accidente fixe
Changelog complet poate fi găsit după instalarea în fișierul Changelog.txt.
Ne-ar dori să dea un mare mulțumiri tuturor testerii nostri beta care au ajutat face acest lucru stabil comunicat de găsirea și raportarea bug-uri în timpul de testare beta.
Vă rugăm să ia în considerare donarea pentru a sprijini dezvoltarea viitoare a proiectului:
We hope you enjoy the new release, let us know what you think in the comments! 🙂
Lewin și Krom.