Köszönjük a türelmet! A KaM Remake Scripting Demo végre készen áll!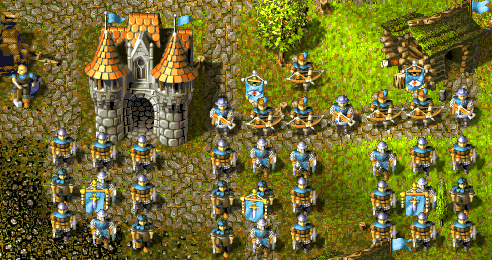 FRISSÍTÉS (30/06/2013): Kijavítottuk a memóriaszivárgást a dedikált szerveren, és kiadtuk az új frissítést (r5047). Az új ZIP fájlt letöltheti innen: letöltések. Szerver üzemeltetői kérem frissítsék!
Megtalálható itt: letöltések. Ha már az előző verzió telepítve van (r4179), akkor csak le kell tölteni a frissítés telepítőt (42MB), egyéb esetben le kell tölteni a Teljes telepítőt (258mb).

A legnagyobb jellemzője ebben a kiadásban az új, dinamikus script rendszert. Ez lehetővé teszi, térkép szerzőket, script kódot, amelyet végre játék közben, így egyszerű dolgok, mint erősítés érkezik szélén a térkép, valamint a teljesen új játék mód, mint a Fun, zászlók (virágzás One) Siegfried. Ben szervezett verseny dinamikus megírt küldetések, Így várható, hogy sokkal több kreatív és izgalmas, új küldetések az elkövetkező hónapokban!
Íme néhány a legfontosabb változásokból:
egyensúly
Minden pajzsos egység (fejszések, kardforgatóknak, felderítők és lovagok) kapnak 1 védelmet távolsági egységek ellen (íjászok és számszeríjászok), hogy életképesebbek legyenek
Íjászok (nem számszeríjászok) gyorsabban töltenek, hogy életképesebbek legyenek
Kereskedelem olcsóbb a piacon
Jellemzők
Dinamikus szkriptek

Önálló MI kiképzések és védelmi vonalak felállítása (ahogy a fenyti kép mutatja), még mindig befejezetlen

Vendéglátó állíthatja a játék sebességét 1.0x - 3,0-szorosig a lobbyszobában (utánna békeidőben külön állítható)
Új egyjátékos kampány Vas álltal (10 küldetés)
A vendéglátó beállíthat jelszavat a lobbyban, hogy privát játékokat lehessen játszani
Vendéglátó írhat rövid jellemzést a lobbyban, amit láthat mindenki a szerverlistán (pl.: csak új játékosok)
FPS mellett látható a ping is, így azonosítani lehet a játékot okozó laggot
Blokkban szállítás a speciális fegyvereket a laktanyába

Kattintva kistérképen helyen lobby felveszi,

Hely és zászló választható az egyjátékos térképeknél
Opció a lobbyban, a csapaton belüli helyek véletlenszerű választására
Képesség, hogy privát csevegést folytathassunk egy adott játékossal (suttogni)
A visszajátszásokban a fog of war beállítható a kiválasztott játékosoknál
A görgető kerék lenyomva tartásával közlekedhetünk a térképen
Fejlesztések
Javított hadsereg átrendezés (videó)

Map Editor többnyire funkcionális most, néhány kisebb funkciók mindig hiányzik (undo / redo), de minden más úgy tűnik, hogy ott

Üzenetek házak és katonák gyűjtik a naplóból, nem pedig az egyes üzenetek
Megváltozott felszabadítása érdekében, hogy a játék kezdetén gyorsabb és sokkal érdekesebb, most már alapértelmezés szerint az iskola és a fogadó egyaránt oldva az elején, és a kőfejtő és favágók egyaránt nyitva építése után az iskola
Jelentős útkereső és AI teljesítmény optimalizálás
Egy billentyű lenyomásával kiválasztja a térkép adott betűvel kezdődő térkép / save listák

Co-op küldetések már nem szükséges, hogy beállítsa az AI helyeken kézzel

Megállt építők ürítés tornyok kihasználni, most építők nem közelítik meg az ellenséges tornyok.
Bug javítások (legfontosabb)
A mezőgazdasági termelők hatékonyabb megosztására mezők
Fegyvereket lehet venni a laktanya, hogy lehet kereskedni a piacon
Térképek / mentett játék lista betöltése sokkal gyorsabb az első alkalommal
Katonák elrendelte, hogy támadni íjászok követi az íjászok, ha mozdulni
Rögzített kihasználni, ahol meg lehet növelni távolsági egységek aránya tűz ismétlésével megrendelést a megfelelő pillanatban (mint például a támadás ház)
Sokkal több hiba / összeomlik fix
A teljes changelog megtalálható telepítése után a fájlban changelog.txt.
Szeretnénk, hogy egy nagy köszönet minden béta tesztelők, aki segített, hogy ez a kiadás a stabil megtalálásával és hibabejelentésket során a béta tesztelés.
Kérjük, adományaival a jövőben támogassa a projekt fejlesztése:
We hope you enjoy the new release, let us know what you think in the comments! 🙂
Lewin és Krom.