Dėkojame už jūsų kantrybę, kam perdaryti scenarijus Demo pagaliau pasirengusi!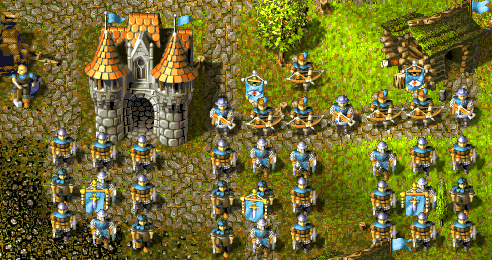 UPDATE (30/06/2013) Mes ilgalaikio atminties nutekėjimą serverio ir išleido atnaujintą serverio vykdomąjį (r5047). Galite gauti naują, užtraukiamas parsisiųsti puslapis. Serverio operatoriai prašome atnaujinti!
Jūs galite rasti jį į parsisiųsti puslapis. Jeigu jau turite ankstesnę versiją įdiegta (r4179) Jums tik reikia atsisiųsti atnaujinimo diegimo (42MB), priešingu atveju jums reikės visą montuotojas (258mb).

Didžiausias bruožas šioje versijoje yra naujas dinamiškas skriptų sistema. Tai leidžia žemėlapis autoriai rašyti programinį kodą, kuris yra vykdomas, o tu žaidi, todėl paprastus dalykus kaip pastiprinimą atvežamų žemėlapio krašto, taip pat visiškai naujų žaidimo režimų, tokių kaip smagu su Lietuvos vėliava (žydėjimas One) Siegfried. Benas surengė konkurencija dėl dinaminių scenarijus misijas, Todėl tikėtis pamatyti daug daugiau kūrybinių ir įdomių naujų misijų Per ateinančius mėnesius!
Štai keletas iš svarbiausių pakeitimų:
balansas
Visose apgyvendinimo patalpose su skydu (axefighters, swordfighters, skautai ir riterių) gauti 1 gynybą prieš svyravo vienetų (bowmen ir crossbowmen), kad jie taptų gyvybinga
Bowmen (ne crossbowmen) perkraukite šiek tiek greičiau, kad jie taptų gyvybinga
Prekyba yra šiek tiek pigiau turguje
Įranga
Dinaminės scenarijai

Autonominė AI traukiniai karius ir nustato gynybos linijas (kaip parodyta pirmiau pateiktame paveiksle), vis dar nebaigtas

Priimančioji galite nustatyti žaidimo greitį nuo 1.0x iki 3.0X fojė (per ir po taikos meto nustatyti atskirai)
Naujas Singleplayer kampanijos padarė Vas su 10 misijų
Priimančioji galite nustatyti slaptažodį fojė leisti privatiems žaidimai
Priimančioji galite nustatyti aprašą fojė, kuri nurodyta pasirinkto serverio serverio sąraše (pvz., "naujų žaidėjų tik)
FPS rodoma šalia ping, todėl jūs galite nustatyti žaidėjų sukelia lag
Blokuoti pristatymas specialių ginklų į kareivines

Paspaudę ant minimap vietą fojė susitvarko jai

Vieta ir vėliavos spalva selektorius vieno žaidėjo žemėlapiai
Variantas fojė lošimai vietas kiekvienoje komandoje
Galimybė siųsti privačių pokalbių su konkrečiu grotuvas (šnabždesys)
Karo rūkas ir gali būti matoma pasirinktos grotuvas atkuria
Galite slinkti žemėlapį vilkdami su štampuoto ratuku
Patobulinimai
Geresnis kariuomenė pertvarkyti (video)

Žemėlapis redaktorius daugiausia funkcinis dabar, keletą nedidelių funkcijos vis dar trūksta (anuliuoti / perdaryti), bet visa kita atrodo ten

Žinutės namams ir kareivių renkami žinutę žurnale, o ne atskirų pranešimų
Pasikeitė atrakinimas siekiant padaryti žaidimo pradžios greičiau ir įdomiau, dabar pagal nutylėjimą mokyklos ir inn abu atrakinta pradžioje, ir karjeras ir medkirčiai abu atrakinta po statybos mokyklą
Reikšminga pathfinding ir AI veiklos optimizavimas
Paspaudus mygtuką pasirenka žemėlapis pradedant tą žemėlapyje laiško / Išsaugoti sąrašą

Co-op misijas nebereikia jums nustatyti PG vietas rankiniu būdu

Sustabdyti statybininkai ištuštinimo bokštai išnaudoti, dabar statybininkai neturi kreiptis priešo bokštai.
Klaidų pataisymai (svarbiausia)
Ūkininkai efektyviau dalintis srityse
Ginklai gali būti paimtas iš kareivinių būti prekiaujama rinkoje
Žemėlapiai / išsaugotą žaidimą sąrašus įkelti daug greičiau po to, kai pirmą kartą
Kariai įsakyta pulti bowmen seks bowmen jei jie tolti
Fiksuotas išnaudoti kur galite padidinti svyravo vienetų norma gaisro kartojant užsakymą reikiamu metu (pavyzdžiui, ataka namas)
Daug daugiau klaidų / avarijos ilgalaikis
Pilnas pakeitimų galima rasti įdiegus faile Changelog.txt.
Norėtume, kad didelis ačiū visiems mūsų beta testuotojų, kurie padėjo atlikti šį išleidimas stabili ieškant ir pranešimui apie klaidas, per beta testavimą.
Prašome apsvarstyti dovanojančios remti būsimą plėtrą projektą:
We hope you enjoy the new release, let us know what you think in the comments! 🙂
Lewin ir Krom.