Grazie per la vostra pazienza, KAM Remake Scripting demo è finalmente pronto!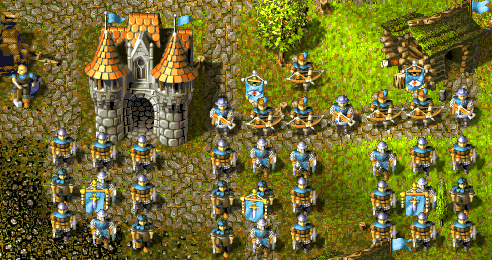 UPDATE (30/06/2013): Abbiamo fissato una perdita di memoria nel server dedicato e pubblicato eseguibili del server aggiornati (r5047). È possibile ottenere il nuovo ZIP sul pagina di download. Operatori di server si prega di aggiornare!
Lo si può trovare sul pagina di download. Se avete già la versione precedente installata (R4179) solo è necessario scaricare il programma di installazione di aggiornamento (42MB), altrimenti è necessario il programma di installazione completo (258MB).

La più grande caratteristica di questa versione è il nuovo sistema di scripting dinamico. Permette sugli autori di scrivere codice script che viene eseguito mentre si gioca, permettendo cose semplici come i rinforzi che arrivano al bordo della mappa, così come del tutto nuove modalità di gioco come divertimento con le bandierine (Florescence One) di Siegfried. Ben ha organizzato un concorso per le missioni dinamiche script, Quindi aspettatevi di vedere molto più creativi ed emozionanti nuove missioni nei prossimi mesi!
Ecco alcuni dei cambiamenti più significativi:
Equilibrio
Tutte le unità con uno scudo (axefighters, swordfighters, esploratori e cavalieri) prendono 1 difesa contro le unità a distanza (arcieri e balestrieri) per renderli più praticabile
Arcieri (non balestrieri) ricaricare leggermente più veloce per renderle più praticabile
Trading è leggermente più economico al mercato
Caratteristiche
Script dinamici

Standalone AI addestra soldati e definisce le linee di difesa (come mostrato nello screenshot sopra), ancora incompiuta

Host può impostare la velocità di gioco da 1,0 x a 3,0 x nella lobby (durante e dopo il tempo di pace impostato separatamente)
Nuova campagna singleplayer fatta da Vas con 10 missioni
Host può impostare una password per la lobby per consentire i giochi privati
Host può impostare una descrizione per la lobby che viene visualizzato per il server selezionato nell'elenco dei server (ad esempio "solo i nuovi giocatori")
FPS mostrato accanto a ping in modo da poter identificare i giocatori che causano lag
Consegna Blocco di armi specifiche verso le caserme

Cliccando sul posto minimappa nella hall raccoglie

Ubicazione e bandiera di selezione colore per le mappe single-player
Opzione nella hall per casuale posizioni all'interno di ogni squadra
Possibilità di inviare chat privata ad un giocatore specifico (whisper)
Nebbia di guerra può essere visualizzato per il giocatore selezionato nel replay
È possibile scorrere la mappa, trascinando con rotella di scorrimento pressato
Miglioramenti
Riorganizzare migliorata esercito (video)

Map Editor è in gran parte funzionale ora, alcune caratteristiche minori sono ancora dispersi (undo / redo), ma tutto il resto sembra di essere lì

Messaggi per le case e soldati sono raccolti in un log dei messaggi, piuttosto che singoli messaggi
Fine sblocco modificato per rendere l'inizio del gioco più veloce e più interessante, ora di default la scuola e locanda sono entrambi sbloccato all'inizio, e la cava e boscaioli sono entrambi sbloccato dopo la costruzione della scuola
Pathfinding significativi ed eccellenti prestazioni AI ottimizzazioni
Premendo un tasto seleziona la mappa che iniziano con quella lettera in carta lists / salvare

Missioni co-op non necessitano più di impostare manualmente le posizioni AI

Torri costruttori smesso di svuotamento sfruttano, ora i costruttori non si avvicinano le torri nemiche.
Correzioni di bug (più importante)
Gli agricoltori sono più efficienti a campi di condivisione
Le armi possono essere prese fuori dalle caserme ad essere negoziati presso il mercato
Liste gioco Maps / salvati caricare molto più velocemente dopo la prima volta
Soldati ordinato di attaccare arcieri seguiranno gli arcieri se si allontanano
Risolto exploit dove si potrebbe aumentare variava cadenza di fuoco unita 'ripetendo un ordine al momento giusto (come la casa attacco)
Molti altri bug / crash fisso
Il changelog completo può essere trovato dopo l'installazione nel file changelog.txt.
Vorremmo dare un grande grazie a tutti i nostri beta tester che hanno contribuito a rendere questa release stabile da trovare e segnalazione di bug durante il beta testing.
Ti consigliamo di donare per sostenere lo sviluppo futuro del progetto:
We hope you enjoy the new release, let us know what you think in the comments! 🙂
Lewin e Krom.