Takk for tålmodigheta. KaM Remake Scripting-demoen er endelig klar!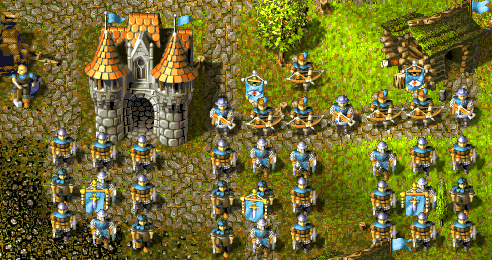 OPPDATERING (30.06.2013): Vi har fikset en minnelekkasje i den dedikerte serveren og lagt ut oppdaterte eksekverbare serverfiler (r5047). Du kan få den nye mappa på nedlastingssida vår. Hvis du er serveroperatør, bes du spesielt om å oppdatere!
Du finner det på nedlastingssida vår. Hvis du allerede har den forrige versjonen installert, det være seg (R4179), trenger du bare å laste ned installasjonsprogrammet for oppdateringa (42 MB). Hvis ikke, må du laste ned fullversjonen (258MB).

Den største nye funksjonen i denne utgaven er det nye dynamiske skriptsystemet. Det lar kartlagere skrive skriptkode som kjøres mens man spiller, hvilket muliggjør at enkle ting som forsterkninger kommer fra kanten av kartet. Dessuten er det også helt nye spillmoduser som "Moro med flagg" ("Fun with Flags") (Florescence One) av Siegfried. Ben har organisert en konkurranse for dynamisk skriptede oppdrag, så dere kan belage dere på å få se mange flere kreative og spennende nye oppdrag i løpet av de kommende månedene!
Her er noen av de viktigste endringene:
Balanse
Alle enheter med skjold (øksekrigere, sverdkrigere, speidere og riddere) får 1 i rustning mot distanseangrepsenheter (bueskyttere og armbrøstmenn) for å gjøre dem mer levedyktige
Bueskyttere (ikke armbrøstmenn) har nå et noe kortere intervall mellom hvert skudd for å gjøre dem mer levedyktige
Det er litt billigere å handle på markedsplassen
Funksjoner
Dynamiske skript

AI trener soldater og lager forsvarslinjer (som vist ovenfor i skjermbildet) - fortsatt ikke helt ferdig

Verten kan sette spillets hastighet fra 1,0 x til 3,0 x i lobbyen (under og utenom fredstid stilles inn separat)
Ny enkeltspiller-kampanje laget av Vas med ti oppdrag
Verten kan velge at det skal være passordkrav for lobbyen for å tillate private spill
Verten kan sette inn en beskrivelse i lobbyen. Denne vises når man velger en server i serverlista (for eksempel "kun nye spillere")
FPS (bilder per sekund) vises ved siden av ping-en slik at du kan se hvilke spillere som forårsaker lagging
Leveringsblokkering av spesifikke våpen til kaserna

Man kan velge ei plassering på minikartet i lobbyen ved å klikke på den

Valg av plassering og flaggfarge i enkeltspillerkart
Mulighet i lobbyen til å randomisere plasseringer innenfor hvert lag
Mulighet for å sende private meldinger til en bestemt spiller (hviske)
Man kan se krigståka for den valgte spilleren under gjenvisninger
Du kan scrolle rundt på kartet ved å dra med presset rullehjul
Forbedringer
Det er lettere å omarrangere troppene (video)

Map Editor fungerer stort sett greit nå. Det er noen mindre funksjoner som fortsatt mangler (som "angre" og "utfør likevel"), men alt annet ser ut til å være der

Meldinger som angår hus og soldater er samlet i en meldingslogg heller enn enkeltmeldinger
Endret opplåsingsrekkefølge for å gjøre starten av spillet raskere og mer interessant. Nå er er både skolen og vertshuset låst opp ved oppstart, og både steinbruddet og tømmerhoggerhytta blir låst opp etter at du har bygget skolen
Viktig optimalisering for AIs opptreden og for at trellene finner den korteste veien
Når du trykker på en tast, velges kartet som starter med den bokstaven i kart-/lagrede spill-listene

Samarbeidsoppdrag krever ikke lenger at du plasserer AI på kartet manuelt

Stoppet muligheten for å utnytte byggere til å tømme tårnene for stein. Nå går ikke byggere nærme fiendtlige tårn.
Rettelser av programvarefeil (viktigst)
Bønder deler jorder med hverandre mer effektivt
Våpen kan tas ut av kaserna for å bli byttet mot noe annet på markedsplassen
Kart-/lagrede spill-lister lastes mye raskere etter første gang
Soldater som er beordret til å angripe bueskytterne, vil følge etter bueskytterne hvis disse beveger seg bort
Korrigert muligheten for å utnytte det at man kunne øke avfyringshastigheten til avstandsvåpen ved å gjenta en ordre på riktig tidspunkt (for eksempel når man angriper et hus)
Mange flere programvarefeil/krasj fikset
Hele endringsloggen befinner seg, etter installasjonen, i fila "changelog.txt".
Vi vil gjerne rette en stor takk til alle betatesterne våre som bidro til å gjøre denne utgivelsen mer stabil gjennom å finne og rapportere inn bugs under betatestinga.
Gi gjerne en donasjon for å støtte fremtidig utvikling av prosjektet:
We hope you enjoy the new release, let us know what you think in the comments! 🙂
Lewin og Krom.