Merci pour votre patience, KaM Remake supporte enfin les scripts !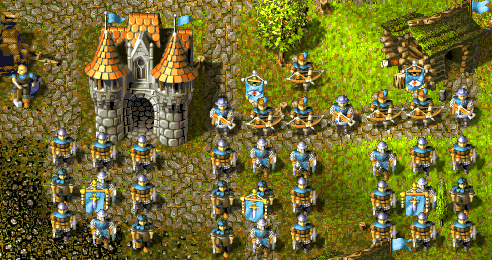 M.A.J (30/06/2013): Nous avons corrigé une fuite de mémoire dans le serveur dédié et publié les exécutables de mise à jour du serveur (r5047). Vous pouvez obtenir le fichier ZIP sur la page de téléchargement. Propriétaires de serveurs, veuillez mettre à jour!
Vous pouvez télécharger cette dernière version sur la page de téléchargement. Si par chance vous avez déjà installé la version précédente (R4179) il vous suffit de télécharger la mise à jour (42 Mo), sinon vous devrez utiliser l'installateur complet (258mb).

La plus grande caractéristique de cette version est le nouveau système de script dynamique. Il permet carte auteurs d'écrire du code de script qui est exécuté pendant que vous jouez, ce qui permet des choses simples comme des renforts arrivant au bord de la carte, ainsi que tout nouveaux modes de jeu tels que Fun with Flags (Fluorescence One) par Siegfried. Ben a organisé une concours de missions scénarisées dynamiques, Alors attendez-vous à voir beaucoup plus créatifs et excitants de nouvelles missions au cours des mois à venir!
Voici quelques-uns des changements les plus significatifs:
Ré-équilibrages:
Toutes les unités équipées d'un bouclier (fantassins, épéistes, cav. légère et chevaliers) obtiennent un point de défense supplémentaire contre les unités à distance (archers et arbalétriers) afin de les rendre plus interressants.
tous les archers (à l'exception des arbalétriers) rechargent un peu plus rapidement pour les rendre plus viable .
Les objets du marché sont légèrement moins chers.
Fonctionnalités
Scripts dynamiques

L'IA entraine des soldats et met en place des lignes de défenses (comme illustré sur le screenshot). L'IA n'est cependant pas terminée .

L'hôte peut définir la vitesse de jeu, de 1.0x à 3.0x, dans le hall de préparation (pendant et après le temps de paix séparément)
Nouvelle campagne solo de 10 missions réalisée par Vas
L'hôte peut désormais définir un mot de passe pour accéder à la préparation de la partie pour permettre les parties privées
Hôte peut définir une description pour le lobby qui est indiqué pour le serveur sélectionné dans la liste des serveurs (par exemple "les nouveaux joueurs seulement»)
Le nombre d'images par secondes de chaque joueur est indiqué à côté de son ping afin de permettre l'identification des acteurs provoquant les lags.
Bloquer les livraisons de certaines armes dans le château

Cliquer sur une possition de la minimap dans le hall de préparation permet de la sélectionner

Sélection de la base de départ et de la couleur de drapeau pour les cartes solo
Option dans le hall depréparation afin de rendre les afectations des positions de départs aléatoires au sein de chaque équipe .
Possibilité d'envoyer des messages privés à un joueur en particulier
Le brouillard de guerre peut être visualisé pour un joueur sélectionné dans les replays
Vous pouvez faire défiler la carte en faisant glisser la souris tout en maintenant enfoncée la molette
Améliorations
Amélioration du changement de formation des troupes (vidéo)

L'éditeur de cartes personnalisées est désormais pleinement fonctionnel, bien que quelques fonctionnalités secondaires manquent toujours (annuler/annuler annuler) .

Les messages concernants les maisons et les soldats sont désormais regroupés dans un journal d'évènements, au lieu d'être affichés en tant que messages individuels
L'ordre de déverrouillage des bâtiments a été modifié afin de rendre le début du jeu plus rapide et plus intéressant ; maintenant par défaut, l'école et l'auberge sont débloquées simultanément en début de jeu , et la carrière et la cabane de bûcherons sont déverrouillées en même temps après la construction de l'école .
Important optimisation des performances de l'IA et de la recherche du plus court chemin .
Appuyer sur une touche permet de sélectionner la carte dont le nom commence par cette lettre dans la liste de sauvegarde

La configuration des joueurs IA dans les missions co-opératives est désormais automatique .

Correction d'une faille qui permettait aux joueurs d'envoyer leurs maçons en reconnaissance chez l'ennemi, alors que les tours de guets ennemies étaient vides. Désormais les maçons ne s'approchent plus des tours de guets, et cela qu'elles soient vides ou non .
Correction de bugs (les plus importants)
Les fermiers partagent de manière plus efficace leurs champs et leurs vignes
Les serfs peuvent prendre les armes du château pour les échanger sur le marché
Listes de jeux de cartes / enregistrés chargent beaucoup plus rapidement après la première fois
Les soldats ayant pour consigne d'attaquer les archers les suivront si ces derniers s'éloignent
Fixe exploit où vous pouvez augmenter le taux variait de feu unités en répétant une commande au bon moment (comme la maison d'attaque)
Bien d'autres bogues / plantages ont été réparés.
Le journal de mise à jour complet peut être trouvé après installation dans le fichier "Changelog.txt".
Nous aimerions remercier chaleureusement tous nos bêta-testeurs qui ont contribué à rendre cette version stable en trouvant et en nous communiquant les bogues lors des tests beta.
Veuillez envisager de faire un don pour soutenir le développement du projet:
We hope you enjoy the new release, let us know what you think in the comments! 🙂
Lewin et Krom.